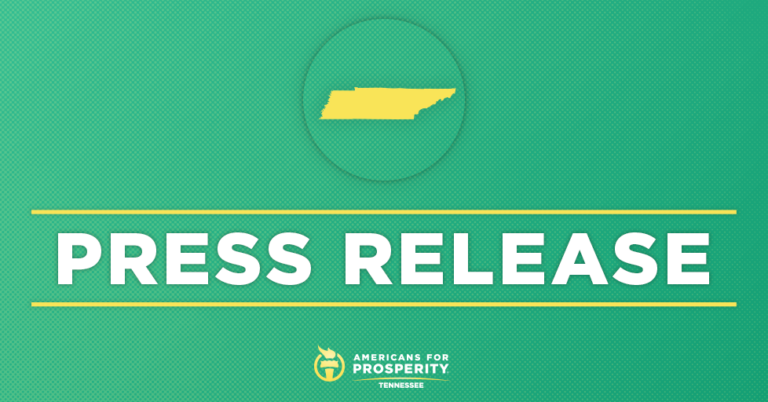 Americans for Prosperity Announces Micah Van Huss to Lead Grassroots Engagement in Tri-Cities
JOHNSON CITY, TN – Americans for Prosperity – Tennessee (AFP-TN) announced today that Former Legislator and Policy Champion Micah Van Huss has joined the organization as Grassroots Engagement Director in the Tri-Cities.
Van Huss released the following statement on joining AFP-TN:
"When I ran for the State Legislature in 2012, I was concerned about government overreach and edicts from Washington, D.C. Today, that threat is clearer than ever. That is why I'm excited to join Americans for Prosperity in leading grassroots activists to fight out-of-control spending and tax hikes. I have been proud to be a policy champion for AFP-TN and look forward to this new challenge."
More about Van Huss: 
Van Huss is a native of northeast Tennessee. His family has lived in this area for eight generations.  After graduating from Cedar View Christian School in Kingsport, he went to Pensacola Christian College, completing a Bachelor of Science in Computer Science, with minors in Graphic Design and E-Business in 2003.  He started a web design business immediately after graduation.  Two years later, he decided to honor his family and his father, and serve our country by joining the Marine Corps.
During his eight years in the Marines, he served as a Scout Sniper for two deployments to Iraq where he was awarded the NAM for saving the lives of Marines and Iraqis.  He was deployed two additional times, once to Iraq and once to Afghanistan, to conduct Department of Defense training to Marines, the Afghan National Army, and the Afghan National Police.
In 2012, he ran for the office of state representative because he didn't "want to see Tennessee going down the same path as Washington, D.C. with out-of-control government spending, corporate red tape, high taxes, moral decline, and infringement on our constitutional rights."  He served the people of Washington County in District 6 from 2012-2020 as a state representative.
For further information or an interview, reach Bill Riggs at BRiggs@afphq.org. 
Through broad-based grassroots outreach, Americans for Prosperity (AFP) is driving long-term solutions to the country's biggest problems. AFP activists engage friends and neighbors on key issues and encourage them to take an active role in building a culture of mutual benefit, where people succeed by helping one another. AFP recruits and unites Tennesseans behind a common goal of advancing policies that will help people improve their lives. For more information, visit www.americansforprosperity.org