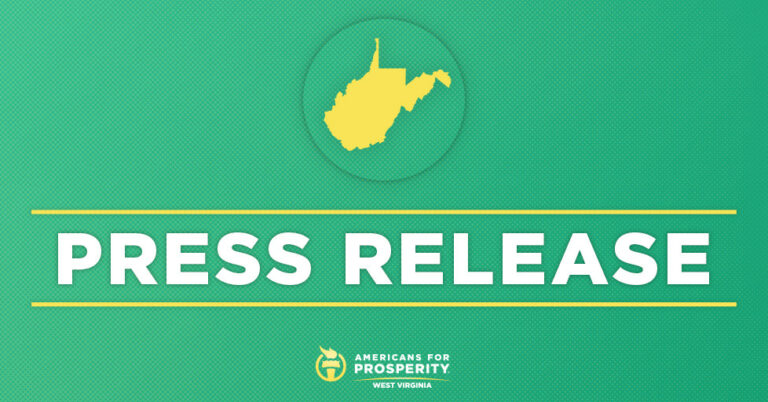 AFP-WV Announces First Round of 2022 Candidate Endorsements, Expands Grassroots Staff
CHARLESTON, W.Va.—Americans for Prosperity- West Virginia (AFP-WV) today announced the group's first round of candidate endorsements for the 2022 election cycle. The group has endorsed State Senator Rollan Roberts, Kase Poling, and Cole Parsons. AFP-WV is leveraging its signature grassroots efforts along with launching direct-mail and digital advertisements in support of the candidates.
The group has also announced that it has significantly expanded its grassroots team in order to more rapidly transform policy in West Virginia and tackle some of the biggest issues facing the state.
AFP-WV State Director Jason Huffman issued the following statement:
"First and foremost, we're a principles-based policy organization. We remain committed to rejecting the kind of divisive politics that only serves to divide us and, instead, work to unite folks around proven policy solutions that will make West Virginia a better place to live, work, and raise a family. To continue achieving the kind of rapid transformation that West Virginians deserve, we must thoughtfully support candidates for office who are true policy leaders and unafraid to take on powerful special interests to enact bold, lasting policy changes in Charleston. By doing so, we will continue to change the political incentives faced by policymakers away from politics as usual and towards principled policy decisions."
"AFP-WV has already demonstrated that we can make a real difference when it comes to transforming the policy landscape and impacting key elections. That's why we're excited to announce investments in additional AFP-WV staff, which allows us to significantly expand our grassroots reach, further leveraging our unmatched capabilities to propel West Virginia down a pathway to prosperity by removing barriers that have held Mountaineers back from reaching their full potential for far too long."
AFP-WV Candidate Endorsements
State Senator Rollan Roberts
Senator Roberts was instrumental in securing the passage of the Hope Scholarship Act. As Vice Chairman of the Senate Education Committee, his leadership helped turn West Virginia, overnight, from last to the gold standard in the nation for educational freedom for our students. Sen. Roberts is a champion for fiscal responsibility helping to lead the charge to make government live within its means—just like families have to—savings taxpayers millions of dollars and making significant progress towards adopting tax cuts that put more money back in the pockets of West Virginians so they can better live out their version of the American Dream.
Kase Poling
If elected, Kase poling will champion policies to protect individual prosperity for all West Virginians, ensure fewer government barriers stand in the way of the American dream, and drive solutions to tackle our state's greatest challenges. These priorities contrast the district's current representation that has voted against educational freedom and opportunity and voted against steps to cut needless red tape holding West Virginians back from a job. Poling's candidacy presents an opportunity to elect an advocate that will fight to put West Virginia back on a path to prosperity.
Cole Parsons
Cole is a candidate for the House of Delegates. Thanks to his experience working for the family business, Cole understands how government red tape can hamstrung small businesses in West Virginia. He firmly believes the state's greatest asset is our wonderful people, and is committed to pursuing policies that will unleash West Virginia's full potential. In Cole, we have a real opportunity to help make our state the best place to live, work, and raise a family.
New AFP-WV Staff Investments
Tyler Henry, Director of Grassroots Operations
Tyler earned his bachelor's in political science from West Virginia University. He has served as a Grassroots Engagement Director with AFP-WV since 2017. His promotion to Director of Grassroots Operations is a testament to his hard work and innovative approach to principled entrepreneurship. His leadership has contributed to both significant policy victories and positive impacts on the outcome of key electoral engagements. In this new role, Tyler will leverage his considerable experience to run the day-to-day grassroots operations for AFP-WV.
Sam Ollis, Grassroots Engagement Director
Sam is a considerable talent, with impressive experience from his previous roles in the political and campaign world, where he most recently served as the Executive Director of the West Virginia Republican Legislative Committee. He is a graduate of West Virginia University and holds a bachelor's degree in international studies. We're excited for Sam to put his experience to work as he drives grassroots organizing and development in the state's Eastern Panhandle, and beyond.
Ethan Lauchart, Grassroots Engagement Director
Ethan is a leader, as demonstrated by his impressive collegiate baseball career at West Virginia State University where he served as a team captain and was 1st Team All-Region, among other accolades. He holds a bachelor's degree in political science and a Master's in Public Administration, both from his alma mater. Ethan also brings a wealth of grassroots advocacy and political experience that he'll utilize to be a platform for folks in communities across the state who want to have an impact on the policy process in West Virginia.
For further information or an interview, reach Jason Huffman at JHuffman@afphq.org.