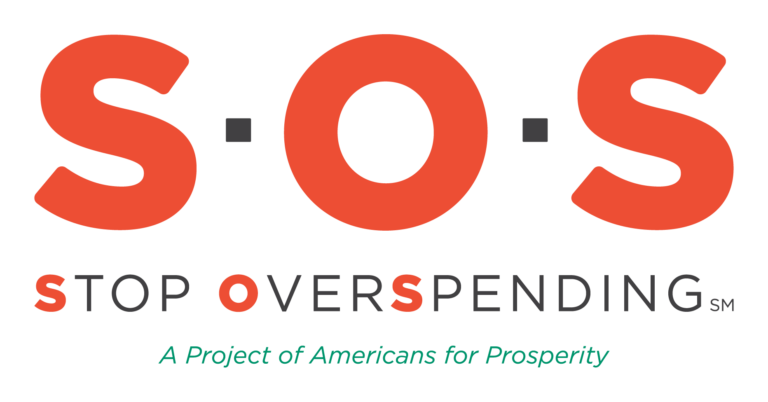 AFP Will Spend Hot August Recess Urging Lawmakers to Put Overspending on Ice
Grassroots groups will put the heat back on lawmakers to freeze discretionary spending for FY2019.
Arlington, Va. – Americans for Prosperity is announcing plans to launch a major new grassroots effort to educate the public on the dangers of the federal government's chronic overspending, and urge lawmakers to put discretionary spending on ice for 2019 with a spending freeze.
The effort, called Stop Overspending (S.O.S.), will see AFP's grassroots state chapters all over the country host on-the-ground events throughout the August recess, ranging from district office visits to Townhall-style policy conversations to ice cream socials. Many events will include frozen treats that send a clear message: it's time to cool it with the overspending. AFP's grassroots state chapters will connect volunteers with policy experts who can explain the need to put a chill on our nation's spending problem.
AFP has long advocated the importance of pairing pro-growth policies like tax reform with spending restraint to grow the economy and improve the lives of Americans. While tax reform was a significant achievement for hard-working Americans, the damages from unchecked federal spending today and in the future will more than offset the benefits of tax reform. In June, the group sent a letter asking Congressional appropriators to freeze 2019 discretionary spending as a down payment toward solving our spending problem, and follow it up with reforms to mandatory spending.  (Read the letter here). AFP also has worked with grassroots activists throughout the summer to urge members of the House and Senate to make better choices on spending, particularly after an excessive omnibus bill and a modest rescission package that failed. (Read more here).
AFP Chief Government Affairs Officer Brent Gardner had this to say:
"Most of us need relief from the heat in August, but Americans are also asking for relief from the ever-mounting spending and  debt crisis. This month, we plan to draw serious attention to our spending problem and show Washington that Americans are indeed sweating this issue. That's why we're calling for a freeze.
"Congress struggles to meaningfully restrain even discretionary spending, which accounts for one third of federal government spending. If we can't achieve that, what hope is there for to make serious fixes to the budget? Simply put, the American dream won't exist for future generations if we allow our country to head into a debt spiral. This effort is designed to make sure spending remains a critical part of our national discussion."
Americans for Prosperity's 36 state chapters will connect their grassroots volunteers to this critical effort throughout August, and will also be facilitating meetings with members of Congress in their district offices while they're home from Washington.
An AFP spokesperson pointed to several troubling developments on the spending front that motivated the effort, including:
The United States government will spend more than $4 trillion for the first time this fiscal year
The total national debt has ballooned to over $21 trillion, an historic high
The share of debt per citizen – from workers, to retirees to babies — has ballooned up to $65,000
BACKGROUND
AFP has consistently fought for more debate and discussion over our nation's spending trajectory, including supporting the Budget Control Act of 2013, which helped put the brakes on discretionary spending through spending caps.
In May, AFP launched the Stop Overspending (SOS) campaign targeting a bipartisan group of House lawmakers with direct mail, print and radio ads, and a grassroots effort to hold the big spenders accountable while thanking those who stood up for taxpayers. The group followed up in July, engaging a bipartisan group of senators. The effort came in the wake of the House passage of a trillion-dollar omnibus package that increased discretional by 13 percent. Click here to read more.
Grassroots activists can send messages to their lawmakers at www.StopOverspending.com.
AFP led a similar initiative during the summer of 2017, where every state chapter held events in support of comprehensive tax reform. That effort included more than 100 grassroots events with lawmakers across the country, along with television ads, direct mail, lobbying visits and more.
For further information or to set up an interview, reach Gabrielle Braud at GBraud@afphq.org or (703) 853-4090.