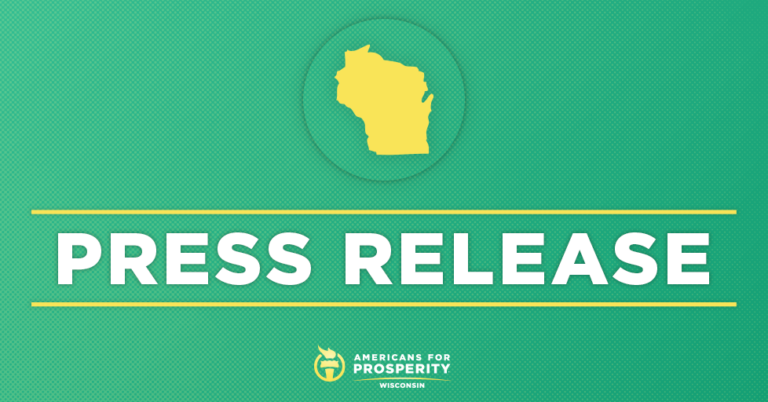 AFP-WI: New Baldwin Bill Threatens Affordable Health Care Options
MADISON, Wis. – Americans for Prosperity-Wisconsin (AFP-WI) on Wednesday criticized new legislation introduced by Sen. Tammy Baldwin that limits access to affordable health care options and pointed to the bill as yet another reason why Tammy Baldwin is unfit to represent the Badger State. The group also earlier today announced its first television ad buy in the Wisconsin U.S. Senate race to supplement its activists' efforts to defeat Sen. Baldwin this November.
AFP-WI State Director Eric Bott made the following statement:
"Tammy Baldwin is trying to take away Wisconsinites' new opportunity for accessing quality, affordable health insurance. This is typical of her big-government, Washington-knows-best approach to public policy.  This effort, like so many Baldwin-backed policies, limits consumer choice and serves as an excellent example of why AFP-Wisconsin activists are working around the clock to defeat her in November."
Background:
The Baldwin bill would overturn a Trump administration rule on short-term, limited-duration (STLD) health insurance plans, which help millions of Americans escape health exchanges to more flexible plans. Millions of Americans are trapped under the skyrocketing costs of Obamacare and they can be provided relief through expanded choice in health care markets. STLD insurance plans offer much-needed alternatives for those hurt most by Obamacare.
STLD plans are:

Regulated by the states, not governed by ACA benefit mandates.
Often significantly cheaper than Obamacare insurance plans. Premiums are 50% to 80% less than an ACA plan
Because the STLD market is more competitive than ACA exchanges, they offer greater flexibility of coverage and better fit the needs of consumers.
The best hospitals and doctors often don't take exchange insurance plans, so this will provide people with better care when they get sick.
An affordable option for those between other sources of coverage.

The ruling from the Department of Health and Human Services extends the allowed coverage period from a previous maximum of three months to one year, with an option to renew to a new maximum of thirty-six months.
A new estimate from the Urban Institute shows that 4 million or more Americans will take advantage of short-term plans – many of whom are uninsured.

The rule would see 58 thousand Wisconsinites sign up for short-term policies, 21 thousand of them previously uninsured.
AFP Commends New Rule on Short-Term, Limited-Duration Insurance Plans (8/1/2018)
Americans for Prosperity (AFP) exists to recruit, educate, and mobilize citizens in support of the policies and goals of a free society at the local, state, and federal level, helping every American live their dream – especially the least fortunate. AFP has more than 3.2 million activists across the nation, a local infrastructure that includes 36 state chapters, and has received financial support from more than 100,000 Americans in all 50 states. For more information, visit www.americansforprosperity.org
###