AFP-WI Launches Seven-Figure Ad Buy Touting Walker Education Successes
$1.8 Million TV & Digital Ad Campaign Reminds Voters Tony Evers Praised Walker Education Policies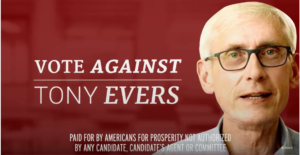 MADISON, WI – Days after declaring its support for Governor Scott Walker and its opposition to Tony Evers in the upcoming gubernatorial election, Americans for Prosperity-Wisconsin (AFP-WI) announced a new seven-figure investment in broadcast, cable, and digital advertisements. The ads quote Evers' effusive praise of the Walker administration's investment in Wisconsin public schools. Evers made his laudatory comments while serving as the state's Superintendent of Public Instruction but has tried to walk them back since he became a candidate for office.
Americans for Prosperity-Wisconsin State Director Eric Bott made the following statement about the ads: 
"Tony Evers had it exactly right when he praised Governor Walker's education budget as a 'pro-kid budget,' an 'important step forward,' and 'good news.' Now that he wants Scott Walker's job, Evers is backpedaling so fast, I'm worried he's going to end up in Minnesota before too long. Evers needs to put the brakes on his dishonest attacks on Governor Walker's successful education policies and start being straight with voters about his own policy positions. These new ads will remind voters of Evers' laughable about-face on the Walker education record, giving them yet another reason to vote against him in November."
Read ad script here:
Thanks to his pro-growth policies, Governor Walker has invested millions in our schools and received a lot of praise:
A "pro-kid budget …" 
"… Commitment for K-12 education is good news …"  
So who said those things? Tony Evers. 
But now that Evers if running for office, he's trying to take back his praise.
The truth? Governor Scott Walker is improving Wisconsin education … and Tony Evers knows it.
Paid for by Americans for Prosperity. 
Not authorized by any candidate, candidate's agent or committee.