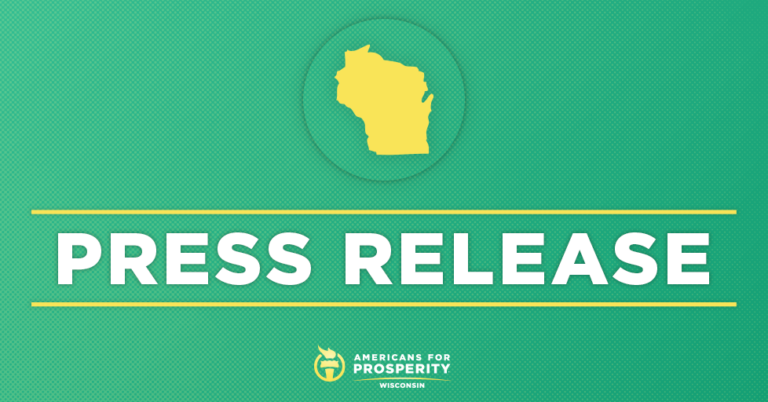 AFP-WI Hails Senate Passage of Walker Welfare Reform Plan
Sweeping Reforms Backed by Badger State Activists Now Headed to Governor's Desk
Senate also clears Wetlands Reform, Civil Asset Forfeiture Rewrite, Base Budget Review Act
MADISON, WI – Americans for Prosperity-Wisconsin applauded the Senate for passing Governor Scott Walker's sweeping welfare reform plan today. AFP-Wisconsin led a heavy grassroots and digital advertising campaign push to urge lawmakers to pass the plan which will increase work opportunity for all Wisconsinites. The plan will now head to Governor Walker's desk where he is expected to sign it into law. The Senate also cleared a trio of significant reform bills supported by the grassroots activist group to reform wetlands permitting, civil asset forfeiture, and spending transparency by state agencies.
Americans for Prosperity State Director Eric Bott made the following statement on the passage of welfare reform:
"Wisconsin works best when Wisconsin works for everyone. We applaud Governor Walker for his bold leadership on this issue and commend the Senate for passing welfare reform which will make it easier for Wisconsinites to get back on their feet and build their future. The reforms in this legislation will remove barriers to job opportunities, reward hard work, and crack down on the waste, fraud and abuse that is draining the system. This historic reform will mean no able-bodied adult is left behind and help thousands of Wisconsinites find the dignity and happiness that comes with work."
Wetlands Reform – AB 547 streamlines the permitting process for development of Wisconsin's non-federal wetlands. 
Eric Bott said of AB 547:
"Wisconsin's current wetland regulations have prevented dairy farmers from expanding barns, stopped families from building homes, and cost local businesses hundreds of thousands of dollars to obtain permits. The current rules were in need of a page-one rewrite and we applaud the Senate for passing this reform to fix a badly broken system. These reforms will alleviate the regulatory burden on Wisconsinites who want to develop their own property  to make it easier for businesses to grow and communities to thrive while maintaining high standards for environmental protection."
Civil Asset Forfeiture Reform Bill – SB 61 reforms Wisconsin's civil asset forfeiture laws which allow law enforcement to seize private property if they merely suspect it has been involved in a crime.
Eric Bott said of SB 61:
"AFP-Wisconsin commends the Senate for passing civil asset forfeiture reform. This law will allow police to obtain property from those convicted of a crime, but protects the property rights and due process rights of innocent citizens."
Based Budget Review Act – SB 337 reinstates the base budget review process which requires state agencies to report regularly to the legislature on every dollar for every program they administer.
Eric Bott said of SB 337:
"Wisconsin taxpayers deserve to know how their money is being spent by state agencies. This commonsense, good government reform will allow taxpayers to hold their state government fully accountable for every dollar it spends. By increasing transparency, the public and their elected officials will be better able to root out waste, fraud and abuse."
Background:
AFP-WI Applauds Assembly for Passing Welfare Reform