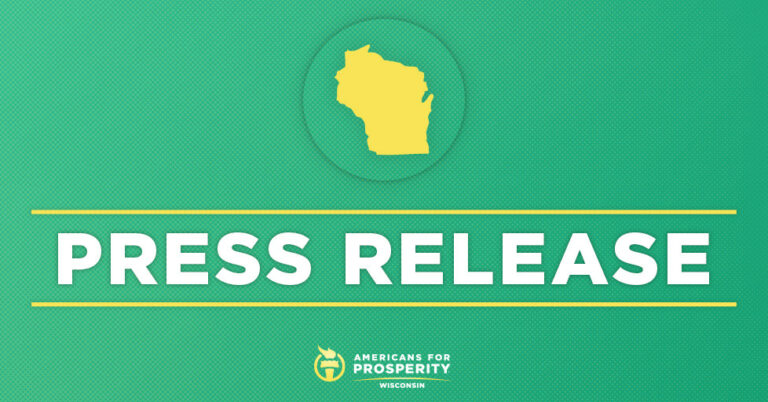 AFP-WI Endorses Additional Candidates for Wisconsin State Assembly Ahead of August Primary
MADISON, Wis. – Americans for Prosperity-Wisconsin (AFP-WI) today announced its support for eight additional candidates running for the Wisconsin State Assembly. The group enthusiastically endorses these policy champions: Rep. Calvin Callahan (AD-35), Rep. Tony Kurtz (AD-50), Rep. Clint Moses (AD-29), Rep. William Penterman (AD-37), Rep. Jon Plumer (AD-42), Nate Gustafson (AD-55), Nik Rettinger (AD-83), and Angie Sapik (AD-73).
To support these policy champions ahead of the August primary election and on to the general election, AFP-WI will leverage a wide range of tactics, including mobilizing its unmatched grassroots army to connect with voters.
AFP-WI State Director Eric Bott issued the following statement:
"These candidates earned AFP-WI's support for their unwavering commitment to reducing excessive government overreach, fiscal responsibility, personalized health care, and increased educational opportunities. We need leaders who will keep Wisconsin on a path forward and help get families and businesses back on their feet in the wake of sky-high inflation. Our activists are excited to throw their full support behind these candidates to help get them elected and reelected to the State Assembly."
Rep. Calvin Callahan (AD-35):
Rep. Callahan is a champion on health care reform, sponsoring several bills, including occupational licensure reforms and advanced practice registered nurses (APRNs) scope of practice reform to allow medical professionals to practice to the full extent of their training. Callahan will also work to fight wasteful and inefficient spending and lower taxes.
Rep. Tony Kurtz (AD-50):
Rep. Kurtz is a principled leader who has consistently put good policy over politics. Kurtz will continue to fight for reforms that put families in control of their health care, lower taxes, rein in spending, and improve education outcomes for Wisconsin students. Kurtz will also support legislation that protects veterans and their families.
Rep. Clint Moses (AD-29):
Rep. Moses has quickly shown himself to be a positive and impactful policy champion for Wisconsin residents. Moses has been a strong advocate of removing government barriers to increase access to quality, affordable health care. He recently cosponsored legislation to reform physician assistant scope of practice. Moses understands the need to empower students and families, not bureaucracies, to improve student success.
Rep. William Penterman (AD-37):
Serving his first term in the State Assembly, Rep. Penterman has already proven his commitment to breaking down barriers so all Wisconsinites can prosper. Penterman has been a consistent voice on the issues families care about most and will continue to support strong fiscal policies, increased access to health care families can trust, and expanded educational opportunities for all children.
Rep. Jon Plumer (AD-42): 
Rep. Plumer is a proven leader in his community and in the State Assembly, consistently advocating for spending and tax reforms, better access to quality, affordable health care, and expanded educational opportunities. As a small business owner, Plumer knows it is critical to rein in out-of-control government spending so families and businesses can thrive.
Nate Gustafson (AD-55):
In office, Nate Gustafson will work to get big government out of the way so all Wisconsinites can succeed. Gustafson supports lowering taxes on hardworking families, expanding access to quality, affordable health care, and empowering families to pursue the education that best suits their children's unique abilities.
Nik Rettinger (AD-83):
Nik Rettinger is passionate about tax reform and occupational licensing reform. He will fight for taxpayers and work to get Wisconsin closer to a flat income tax. Additionally, he supports improving educational outcomes through greater educational opportunity for every child across the state.
Angie Sapik (AD-73):
Candidate Angie Sapik supports strong fiscal policies that help Wisconsinites keep more of their hard-earned paychecks and regulatory reforms that promote economic growth opportunities across the state.