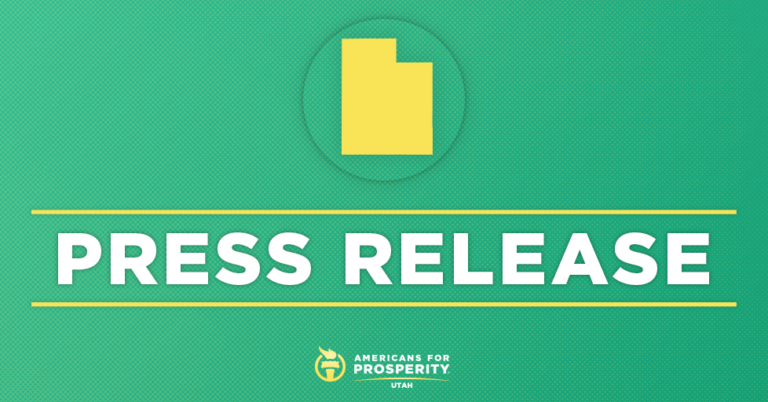 AFP-UT Launches Campaign to Hold Utah Lawmakers Accountable for Tax Hikes, Growing Government
State-wide campaign calls out bad votes, asks lawmakers to work for lower taxes, better healthcare
Salt Lake City, UT – Americans for Prosperity-Utah (AFP-UT) launched a direct mail and digital campaign this week to hold legislators accountable for growing the size of the government and raising taxes on Utah families. In the recent legislative session several lawmakers voted for tax increases, more regulation, and more Obamacare. Their votes will cost hardworking Utahn's millions and keep the state's most vulnerable from accessing quality medical care.
"With a surplus of nearly $700 million, it's absurd that Utah lawmakers would choose to raise taxes on their constituents," said AFP-Utah state director Heather Williamson, "Moving forward, we hope Utah legislators will work to ensure lower taxes and better healthcare options for Utah families."
The mailers released across the state, points to "Yes" votes on three bills:
HB 293: An unnecessary property tax increase that will cost hard working Utahn's nearly $130 million by 2023.
SB 136: This sales tax increase could take an additional $115 million from Utah taxpayers. Additionally, Utah drivers will pay nearly $6 million more in vehicle registration fees in 2020.
HB 472: A bill that expands Medicaid under Obamacare. Utahn's should have high-quality care at low costs. But expanding Medicaid will have the adverse effect and serve only to crowd out finite resources for vulnerable people who really need it.
Americans for Prosperity will soon be releasing its 2018 legislative score cards. Each year AFP's policy team assembles a comprehensive analysis of every state legislator and whether they voted for freedom or for fiscal servitude. The votes spotlighted in the newly released mail and digital campaign will be included in the 2018 legislative score card so that Utah voters can hold their lawmakers accountable and ensure lower taxes and better healthcare for their state.
Additional information:
For more information or to arrange an interview with AFP-Utah's State Director Heather Williamson, please contact HWilliamson@afphq.org.
Americans for Prosperity (AFP) exists to recruit, educate, and mobilize citizens in support of the policies and goals of a free society at the local, state, and federal level, helping every American live their dream – especially the least fortunate. AFP has more than 3.2 million activists across the nation, a local infrastructure that includes 36 state chapters, and has received financial support from more than 100,000 Americans in all 50 states. For more information, visit www.americansforprosperity.org
###