Please select your state
so that we can show you the most relevant content.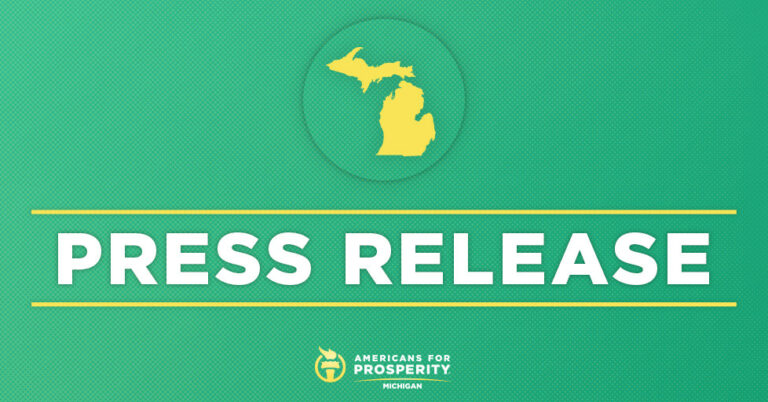 AFP: State House plan to cut taxes puts Michigan on growth path in tough economy
Grassroots group urges broad, bipartisan support for tax cuts 
Lansing, MI – Americans for Prosperity-Michigan today thanked Chairman Matt Hall for crafting a tax plan that would let Michigan families and job creators keep more of their hard-earned income. The group said it is mobilizing its grassroots in support of the proposal with a range of tactics, including phones and mail, that will be deployed before and after a vote.
"Our families and small businesses face historic inflation, rising energy costs and worker shortages," said Annie Patnaude, state director of Americans for Prosperity-Michigan (AFP-MI) "This tax cut puts Michigan on a better path even in this tough economic environment."
The House plan takes the personal income tax rate back down to 3.9 percent, rolling it back to pre-Granholm, pre-Whitmer levels. AFP-MI signaled strong support for other provisions in the package as well, including personal property tax relief and efforts to remedy unfunded pension liabilities at the local level.
"A Republican-led House and Senate are following through on a promise made by a Democratic Governor 15 years ago—there is no better example of bipartisanship than that," said Patnaude. "We urge Governor Whitmer to live up to her State of the State rhetoric, focus on areas where we can agree, and sign this proposal when it gets to her desk."
Patnaude noted that the group will roll out a range of tactics to propel the package to final passage and is poised to hold elected officials accountable for their final position on the bills. The tactics will include mail, volunteer-led phone bank efforts, digital ads, direct lobbying, and pop-up events.
"Our grassroots are ready to hold elected officials accountable for how they vote on this historic tax cut," said Patnaude. "We urge lawmakers to come together and demonstrate broad, bipartisan agreement for a great idea—taxes should be cut across the board for families and job creators."
© 2023 AMERICANS FOR PROSPERITY. ALL RIGHTS RESERVED. | PRIVACY POLICY