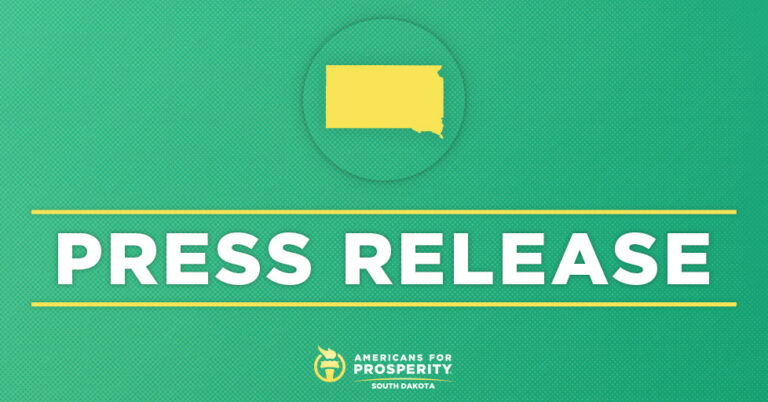 AFP-SD Thanks Sens. Rounds, Thune and Rep. Noem for Protecting South Dakota Agriculture
Recent tariffs and a trade war are harming South Dakota grassroots group says
PIERRE, S.D. – Americans for Prosperity-South Dakota (AFP-SD) on Thursday applauded U.S. Sens. Mike Rounds and John Thune and U.S. Rep. Kristi Noem for urging President Trump to protect U.S. agriculture products from existing and future tariffs.
With agriculture comprising a large sector of South Dakota's economy, recent tariffs and retaliatory tariffs have threatened to severely harm South Dakota's agriculture industry. Their worries are already hitting home – just recently, China retaliated against US tariffs and imposed a 25 percent tariff on U.S. soybeans and corn, and cancelled more than $100 million in soybean purchases.
"The recently imposed tariffs and retaliatory tariffs other countries have placed on U.S. products are already severely damaging South Dakotans and our state's economy. Our chapter and the work of our activists have made it clear that South Dakota cannot afford trade barriers that result in less opportunity and economic success," said Don Haggar, AFP-SD State Director. "We applaud Sens. Rounds, Thune, and Rep. Noem for listening to their constituents and taking a first step toward ending these harmful trade policies before they do further damage to our state."
"AFP-SD urges our legislators to continue standing up for South Dakotans and support the Global Trade Accountability Act that restores Congress' authority to review and approve tariffs," Haggar continued. "Lawmakers need to ensure that our strong economy is not undermined by unilateral action imposing counter-productive trade barriers."
AFP along with network partners Freedom Partners Chamber of Commerce and the LIBRE Initiative recently launched a multi-year, multi-million-dollar initiative championing the benefits of free and open trade.
To supplement this effort in South Dakota, AFP-SD launched a digital ad campaign aimed at educating citizens and encouraging them to contact their lawmakers and support pro-trade policies. You can view, and contact your lawmakers, here.
Additionally, AFP, Freedom Partners Chamber of Commerce and the LIBRE Initiative sent a letter to legislators urging support of the Global Trade Accountability Act (S. 177/H.R. 5281) that would restore congressional authority to review and approve tariffs. You can read the letter here.
Background
Don Haggar's op-ed on trade, tariffs, and a possible trade war ran in the Capital Journal.