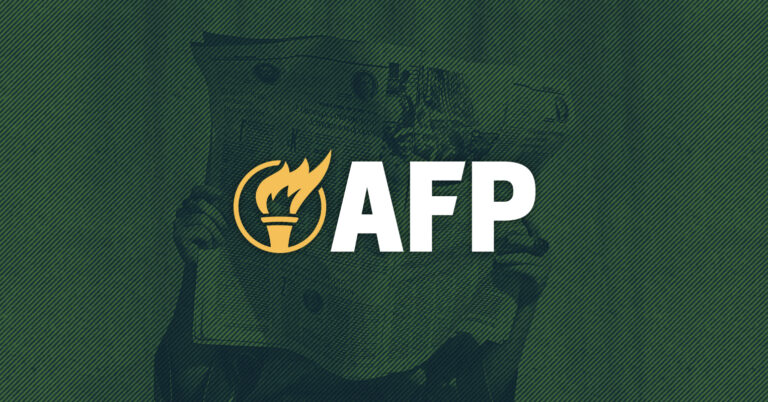 AFP Releases Roadmap to Recover Stronger
Arlington, Va. – Americans for Prosperity (AFP) today released a set of principles and recommendations that offer lawmakers a starting point to build a stronger economy as the country recovers from COVID-19. As Congress considers additional massive spending bills, the guidance is intended to present better alternatives to help the economy recover – and ultimately create a new, stronger economy.
Recover Stronger: A Starting Point to Build An Economy that Works for All
AFP President Tim Phillips issued the following statement:
"How our country chooses to respond to COVID-19 will shape our economy for decades to come. It's time for lawmakers to reject doubling down on more spending or protectionist policies that have proven to leave Americans worse off. There is a better path forward. We can build an economic environment that fosters innovation, creates new and diverse opportunities for the American people to improve their lives, and ensures that we can respond quickly and effectively to future crises."
Excerpt from Recover Stronger:
Americans are living in the midst of an unprecedented health and economic crisis. The COVID-19 pandemic is touching every aspect of our lives, changing how we live, work, and think about the future. Our response to this crisis will weigh heavily on how that future is shaped.

America will recover from this crisis, but we aim to make our country stronger. We can't double down on the policies of the past. Massive government spending has consistently failed to spur real recoveries, pushing us deeper into debt and concentrating benefits on the well-connected by perpetuating a broken system of cronyism and corporate welfare. Misguided protectionism intended to prioritize jobs for Americans ultimately diminishes prosperity, limits job creation, and closes America off to the world. Instead of progress, we get stagnation.

A better way is possible.
Background:
This initial set of policy recommendations targets large sectors of the economy, including housing, health care, transportation, and more that desperately require modernization.
AFP has also been urging lawmakers to reject bad policies, such as a federal bailout of state and local governments. On April 30, AFP delivered a letter to Congress urging opposition to bailouts and announced a national effort to mobilize its grassroots activists against another massive spending bill. The grassroots group also recently hosted tele-town hall and Facebook live events on state bailouts with U.S. Sens. David Perdue, Ron Johnson, Rick Scott, and Todd Young.
AFP has also launched digital ads urging constituents to contact the following U.S. Senators: Sens. Bill Cassidy (R-LA), Joni Ernst (R-IA), Doug Jones (D-AL), Joe Manchin (D-WV), Gary Peters (D-MI), Mitt Romney (R-UT), Mike Rounds (R-SD), Jeanne Shaheen (D-NH), Tina Smith (D-MN), Dan Sullivan (R-AK), Mark Warner (D-VA), and Roger Wicker (R-MS).
AFP's digital ads will also urge constituents to contact the following U.S. Representatives: Reps. Colin Allred (D-TX), Cindy Axne (D-IA), Matt Cartwright (D-PA), Sean Casten (D-IL), Angie Craig (D-MN), Joe Cunningham (D-SC), Sharice Davids (D-KS), Rodney Davis (R-IL), Abby Finkenauer (D-IA), Brian Fitzpatrick (R-PA), Lizzie Fletcher (D-TX), Jared Golden (D-ME), Josh Gottheimer (D-NJ), Kendra Horn (D-OK), Chrissy Houlahan (D-PA), John Katko (R-NY), Andy Kim (D-NJ), Ron Kind, (D-WI), Adam Kinzinger (R-IL), Ann Kirkpatrick (D-AZ), Darin LaHood (R-IL), Al Lawson (D-FL), Susie Lee (D-NV), Elaine Luria (D-VA), Ben McAdams (D-UT), Lucy McBath (D-GA), Debbie Mucarsel-Powell (D-FL), Stephanie Murphy (D-FL), Tom O'Halleran (D-AZ), Chris Pappas (D-NH), Collin Peterson (D-MN), Tom Reed (R-NY), Harley Rouda (R-CA), Mikie Sherrill (D-NJ), Elissa Slotkin (D-MI), Xochitl Torres Small (D-NM), Chris Smith (R-NJ), Abigail Spanberger (D-VA), Elise Stefanik (R-NY), Haley Stevens (D-MI), Mike Turner (R-OH), Lauren Underwood (D-IL), Susan Wild (D-PA), and Lee Zeldin (R-NY).
AFP believes the path to economic recovery — across all of the United States and at the federal level– is to enact reforms the lay the foundation for an economic environment that empowers everyone to improve their lives and the lives of others by:
Challenging special interest politics and ending corporate welfare — bailout culture, subsidies, tax loopholes, etc. — so that success is based on contributing to the lives of others.
Reforming or removing regulations that protect politically connected firms to lower the costs of health care, housing, and core services.
Removing barriers to fulfilling work– such as reforming occupational licensing– to help families build a strong financial future.
Removing barriers to innovation, to open new opportunities to create breakthroughs that radically improve our lives.
Positioning government to play its vital role in the economy by securing equal rights: Ensuring equal treatment under the law, which is essential for long-term progress.