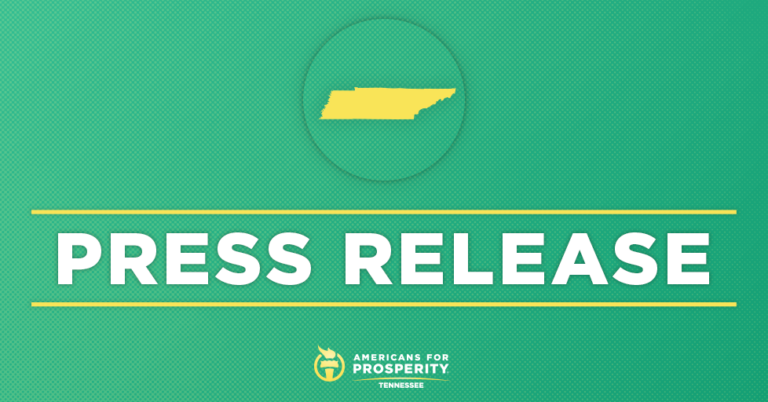 AFP Raises the Bar and Backs Policy Champion Blackburn
Grassroots group launches ground support for Marsha Blackburn in U.S. Senate race
NASHVILLE, TN – Americans for Prosperity-Tennessee (AFP-TN) announced the launch of grassroots activities encouraging Tennesseans to vote for Marsha Blackburn for U.S. Senate. The state chapter's grassroots network of over 46,000 activists will be advocating for a candidate's election for the first time.
"Our organization is committed to raising the bar on elected officials and will stand by champions who prioritize principles over politics. Marsha Blackburn is exactly the kind of policy champion we endorse and support with our significant grassroots resources. From her recent refusal to back a reckless $1.3 trillion spending bill to helping Tennesseans halt a state income tax years ago, Marsha Blackburn is a proven leader on policies that advance economic freedom," said AFP-TN State Director, Tori Venable.
The grassroots effort will be supplemented by a robust statewide mail, digital, and television advertisement campaign.
Venable continued, "This effort will rely heavily on AFP-TN's signature grassroots infrastructure that has proven to be a force across state. We are already making calls and knocking on doors. When it's all said and done, we'll have made over one million voter contacts in support of Marsha Blackburn."
AFP-TN demonstrated the effectiveness of its grassroots model earlier this year when it partnered with the Stop the Train Committee to help defeat the Nashville Transit Improvement Plan, a $9 billion boondoggle that would have imposed the highest sales tax in the nation to pay for it. Over the span of a few weeks AFP-TN volunteers knocked on over 6,000 doors and made over 40,000 phone calls to inform Nashvillians about the plan and its true effects.
Background:
Rep. Marsha's Blackburn voting record in the House of Representatives has earned her a 97% and a lifetime grade of 92% on AFP's legislative scorecard. Click here to view the scorecard.
Blackburn opposed the omnibus spending bill, saying that "We have a moral obligation to enact real spending reform." "We have Republicans in the House, the Senate, and the White House. It's time we start to show some fiscal restraint. Our national debt is growing out of control, and we can't continue to pass these massive spending bills and expect future generations to deal with our negligence. I voted 'no' for the 1.3 trillion omnibus spending bill, because Washington has a spending problem, and we cannot continue to kick this can down the road.
After the enactment of the Tax Cuts and Jobs Act, Blackburn has touted the benefits of the law for Tennessee workers. "Tennessee workers are already seeing and feeling the benefits of the Tax Cuts and Jobs Act – 4,000 employees of First Tennessee bank will receive bonuses because of this monumental tax reform law." (Marsha Blackburn Twitter, 1/5/18)
Blackburn has opposed proposals to raise the federal gas tax, saying that "'Washington doesn't have a revenue problem,' Blackburn said. 'Washington has a spending problem. Another tax increase on hard-working taxpayers is not the way to solve the Highway Trust Fund issue.'" (Paul C. Barton, "Corker's Gas Tax Proposal Gets Mixed Reviews," Tennessean, 6/21/14)
Rep. Blackburn has voiced concern over protectionist trade policies. "While I support trade policies that strengthen American manufacturing and will put this nation on a fair playing field internationally, I am disappointed in the overly harsh ruling of Section 201 tariff remedies against imports of residential washing machines." (Press Release, "Rep. Blackburn's Statement On Section 201 Tariff Remedies," Representative Marsha Blackburn, 1/29/18)
"I think we have to tread very carefully as we look at tariffs,' Blackburn said to reporters in Nashville while turning in her nominating petitions to run for the U.S. Senate. Blackburn said she is well aware that the state's auto industry, as well as companies like Electrolux and LG, are concerned about the tariff proposal. 'You do not want to drive up the cost of consumer goods,' she said. 'You take a state like ours that has done well with in-sourcing jobs and also with our exports and what you don't want to do is do anything that hurts the economic growth that we've seen.'" (Joel Ebert, "U.S. Rep. Marsha Blackburn Worried About Negative Impact Of Trump's Tariff Proposal," Tennessean, 3/9/18)