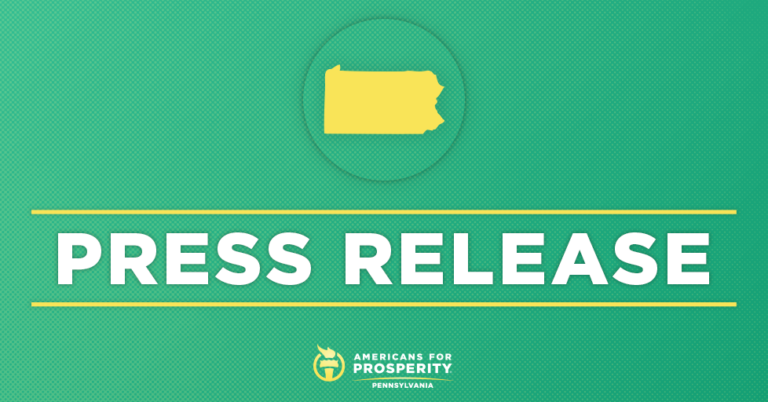 AFP-PA Names New State Director
Klingensmith committed to improving lives for all Pennsylvanians
HARRISBURG, Pa. – Americans for Prosperity-Pennsylvania (AFP-PA) has named Ashley Klingensmith as the grassroots group's new state director. Ashley previously served as grassroots director for AFP-PA, building the chapter's signature grassroots infrastructure and engaging Pennsylvanians to drive lasting solutions in their communities.
"I am honored that Americans for Prosperity has entrusted me with leading the organization's efforts in our commonwealth. Too many barriers prevent Pennsylvanians from reaching their potential – we're here to break those barriers down," said Klingensmith. "Most importantly, I'd like to thank the activists who trust Americans for Prosperity to be their voice. We're in the business of providing the grassroots a platform to scale their impact, and because of our activists, we're capable of building the broad coalitions within our communities necessary to move Pennsylvania in a better direction."
Beth Anne Mumford, who served as Pennsylvania State Director for four and a half years, has been promoted to Regional Director and now oversees operations in Virginia, Michigan, Kentucky, New Jersey, West Virginia and Pennsylvania.
"Ashley's commitment to excellence positions her well to take the lead in advancing our vision of improving the lives of Pennsylvanians. Ashley has been tremendously effective in building out our chapter's grassroots infrastructure and engaging citizens to drive lasting change in the Commonwealth," said Mumford. "Helping Pennsylvania's activists make our state better has been one of the most rewarding privileges of my career. I'm confident that with Ashley at the helm, our activists' impact will only grow."
AFP-PA advances policies that would lower barriers to opportunity, including reforming the criminal justice system and expanding economic opportunity.
Ashley Sisca Klingensmith has served the Pennsylvania chapter of Americans for Prosperity since May 2014. Born and raised in Pittsburgh, Ashley's an alumna of North Allegheny Senior High School and Duquesne University School of Law. While pursuing her law degree, Ashley worked full time for the Majority Whip of the Pennsylvania Senate. Ashley also has more than one year's experience serving Pennsylvania's former 12th congressional district as field staff. Ashley lives in Greensburg with her husband, Robert, and dog, Burnley.
For further information or an interview, reach Lorenz Isidro at LIsidro@afphq.org or 703.887.7724 
Through broad-based grassroots outreach, Americans for Prosperity (AFP) is driving long-term solutions to the country's biggest problems. AFP activists engage friends and neighbors on key issues and encourage them to take an active role in building a culture of mutual benefit, where people succeed by helping one another. AFP recruits and unites Pennsylvanians behind a common goal of advancing policies that will help people improve their lives. For more information, visit www.americansforprosperity.org
###