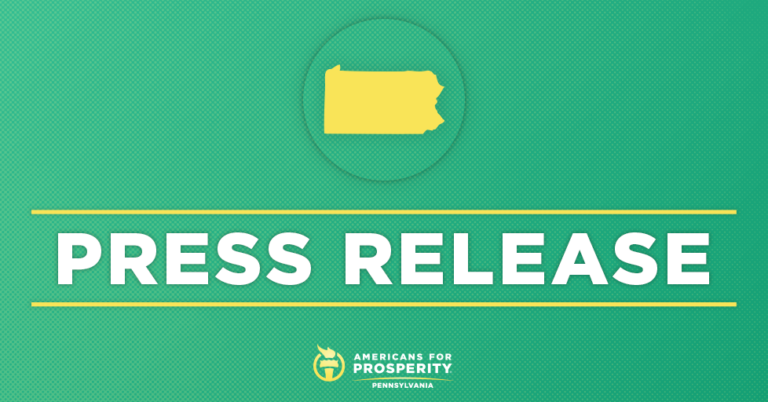 AFP-PA Announces Statewide Path to Prosperity Tour
HARRISBURG, PA – Americans for Prosperity-Pennsylvania (AFP-PA), the Keystone State's leading free-market grassroots organization, announced the kickoff of its 2018 Path to Prosperity Tour. The statewide tour features two dozen events with state senators and representatives to outline policies that will enable Pennsylvania to unleash its promise and help Keystone State residents enjoy greater economic opportunity and prosperity.
"The Keystone State has so much economic potential, but it's sometimes hard to see it because of the overregulation, expensive tax-and-spend policies, and government mismanagement that get in the way. That's why it's so important for lawmakers to connect with their constituents and discuss the reforms that can help us keep more hard-earned money in our pockets and lead Pennsylvania toward a better, more robust future," said AFP-PA State Director Beth Anne Mumford. "Many Pennsylvanians will begin to see the benefits of federal tax reform in their paychecks this month. Now it's up to state lawmakers in Harrisburg to take concrete steps to cut taxes, eliminate regulations, and lower barriers to opportunity so that every Pennsylvanian will truly be able to pursue their version of the American dream and unleash our state's economy."
The Path to Prosperity Tour, which launched February 1st, has already featured a roundtable in Hollidaysburg with Sen. John Eichelberger and a roundtable in Mechanicsburg with Rep. Sheryl Delozier. Several more roundtables are scheduled throughout February and March.
AFP-PA wants to ensure that every Pennsylvanian is free to live their version of the American Dream, especially the least fortunate. In 2018, we will advocate for the following five policy goals:​
A reformed state budget that prioritizes taxpayers with a fair and competitive tax system
Government that encourages affordable energy solutions
Government that protects workers and taxpayers
Lower barriers to opportunity so every citizen can thrive
An education system that gives every parent the educational freedom they need to help their children succeed
For further information or an interview, reach Lorenz Isidro at LIsidro@afphq.org or 703.887.7724 
Americans for Prosperity (AFP) exists to recruit, educate, and mobilize citizens in support of the policies and goals of a free society at the local, state, and federal level, helping every American live their dream – especially the least fortunate. AFP has more than 3.2 million activists across the nation, a local infrastructure that includes 36 state chapters, and has received financial support from more than 100,000 Americans in all 50 states. For more information, visit www.americansforprosperity.org
###