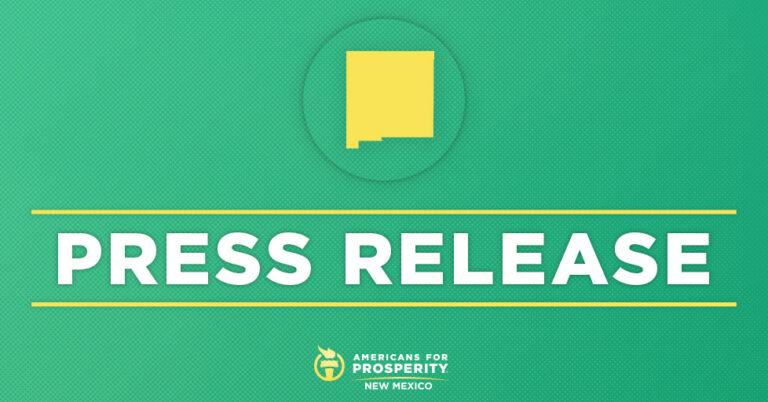 AFP-NM: San Juan Moves on Right-to-Work
Aztec, N.M. – Americans for Prosperity-New Mexico (AFP-NM) applauded the San Juan County Commission for voting 4-0 to post for public consideration a right-to-work ordinance, setting the stage for an August 7th final vote on the measure. AFP-NM has been at the forefront of the push for workers' rights in the state, having launched in 2017 the "New Jobs New Mexico" campaign, a multilayered grassroots campaign to educate citizens about the positive impact of right-to-work. Sandoval, Otero, Lincoln, and Chaves counties have already passed right-to-work ordinances.
"Forcing employees to join and fund a union as a condition of employment is unfair and workers should be free of that corrupt bargain. Fortunately, one by one, counties across the state are beginning to understand that expanding workers' freedom will ultimately make New Mexico a better place to live, work, and raise a family," said AFP-NM State Director Burly Cain. "All signs point to San Juan approving the measure and joining the chorus of counties calling for expanded worker freedom."
AFP-NM has been the most vocal advocate in the state for local governments to pass policies that empower New Mexico workers. Last September, AFP-NM launched the "New Jobs New Mexico" campaign – a robust grassroots, direct mail, and digital effort to educate citizens about the impact of right-to-work. AFP-NM first rallied in Sandoval County in August 2017, which passed Right-To-Work on January 19th, 2018. AFP-NM then mobilized in Otero County, which passed right-to-work on April 12. Lincoln and Chaves counties followed on May 15 and May 21, respectively.
The group is committed to engaging across the state, county by county, to make New Mexico the next right-to-work success story.
Background:
AFP-NM: SCOTUS Decision on Janus v. AFSCME is Win for Constitution and Public Employees (6/26/2018)
For further information or an interview, reach Lorenz Isidro at LIsidro@afphq.org or (703) 887-7724
Americans for Prosperity (AFP) exists to recruit, educate, and mobilize citizens in support of the policies and goals of a free society at the local, state, and federal level, helping every American live their dream – especially the least fortunate. AFP has more than 3.2 million activists across the nation, a local infrastructure that includes 36 state chapters, and has received financial support from more than 100,000 Americans in all 50 states. For more information, visit www.americansforprosperity.org
###