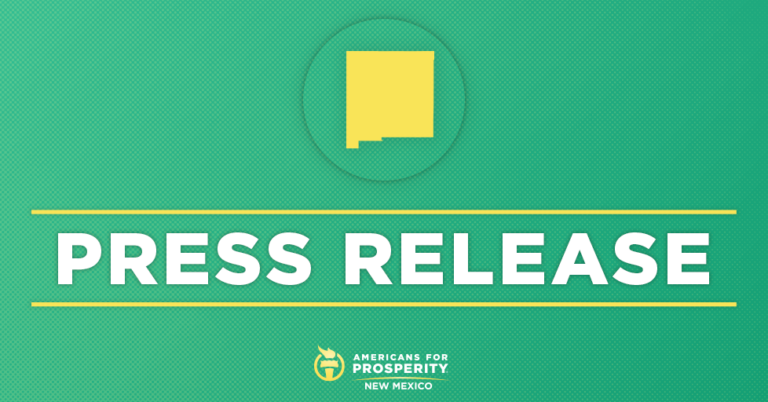 AFP-NM, CVA-NM Urge Lawmakers to Protect Small Businesses, Economy
SANTA FE, NM – Americans for Prosperity-New Mexico (AFP-NM) and Concerned Veterans for America-New Mexico (CVA-NM) today urged lawmakers to reject HB 50, a bill that creates an unnecessary expansive private right of action under New Mexico's environmental statues. The bill is before the House Judiciary Committee.
The bill ignores the role of common law in adjudicating environmental matters and goes well beyond even the most aggressive citizen suit provisions in our federal environmental statutes. It would misalign incentives for cooperation on continued environmental progress while chilling economic activity through frivolous litigation.
AFP-NM State Director Burly Cain issued the following statement:
"This bill is a solution in search of a problem. Our state already inspects thousands of facilities for environmental standards. Instead of exacerbating energy poverty and hurting low-income New Mexico households that are already paying 20% of their annual income on electricity and heating, we should be pursuing bottom-up approaches that lead to better environmental and economic outcomes. We urge legislators to reject this bill that will lead to less economic opportunity for small businesses and low-income New Mexicans."
CVA-NM Grassroots Engagement Director Nate Banks issued the following statement:
"Frivolous litigation, more energy poverty, and further burdensome regulations for our small businesses is the last thing our state needs to recover from the economic effects of COVID-19. Yet, this is what our veteran communities and fellow New Mexicans would experience from HB 50.   Unelected environmental organizations should not be able to dictate Green New Deal-style prohibitions on energy in our state."
 Background:
HB 50: Counterproductive for Environmental Progress, While Devastating Small Businesses, Economy, 1/26/20
The bill creates substantial incentives for anti-development groups to file lawsuit after lawsuit in an attempt to hold up all types of energy infrastructure (including renewable and transmission projects), as well as permits for new small businesses, manufacturing facilities, and economic recovery projects. An American Bar Association publication explained: "Even if a citizen suit challenge is unsuccessful, it generally leads to significant delays in the construction or operation of the source…. These 'kitchen sink' challenges are becoming increasingly popular as environmental groups continue to exploit new information and communication technologies to become ever more involved in local regulatory activities."
Decades of experience with more modest citizen suit and enforcement action provisions demonstrate that this bill will usher in secret, behind-closed-door rulemaking and enforcement actions, leaving New Mexicans to foot the bill. The U.S. Chamber of Commerce found in a series of reports that citizen enforcement actions under the federal Clean Air Act led to backroom, "sue and settle" agreements to develop costly and burdensome regulations, imposing hundreds of billions of dollars of cost on the American people each year.