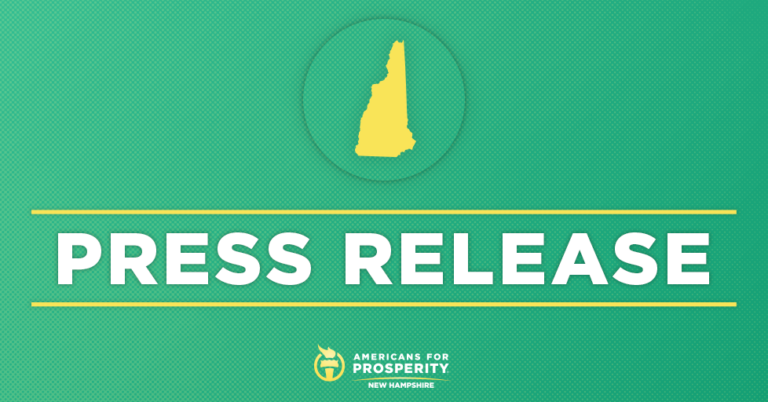 AFP-NH Launches Statewide Digital Campaign Protecting New Hampshire Advantage
Grassroots group urges representatives to continue economic growth and reject reckless budget proposal
CONCORD, NH – Americans for Prosperity-New Hampshire (AFP-NH) today announced a statewide digital ad campaign urging legislators to reject the House Finance Committee's proposed budget (HB 1) and trailer bill (HB 2), both of which undermine the New Hampshire Advantage. The digital campaign uses a digital tool that connects Granite Staters with their lawmakers.
"Tax relief and our New Hampshire Advantage of fiscal responsibility has increased opportunity for thousands of Granite Staters and ignited our economy. The House's proposed budget would undermine New Hampshire's economic progress by increasing spending and taxes," said Greg Moore, AFP-NH State Director. "We are educating Granite Staters and encouraging them to make their voice heard. Granite Staters know that the government digging deeper into their pockets isn't a viable economic model for growth and opportunity, and our activists are mobilizing to help stop this reckless budget."
Background:
AFP-NH Calls Out Irresponsible, Tax-Hike Filled House Budget, 4/3/19
AFP-NH has been the state's leading grassroots advocate for business tax relief. Starting in 2014, AFP-NH's sister organization, Americans for Prosperity Foundation, issued a study that raised the issue of New Hampshire's high business taxes. In 2015, the chapter led efforts to override Governor Hassan's veto of tax cuts.
The federal Bureau of Economic Analysis shows that New Hampshire with the fastest GDP growth in the Northeast.
Businesses tax cuts have led to more jobs and resulted in the state receiving record-high revenues.
Read Greg Moore and Bruce Berke's op-ed here on tax relief boosting the state's economy and adding jobs.