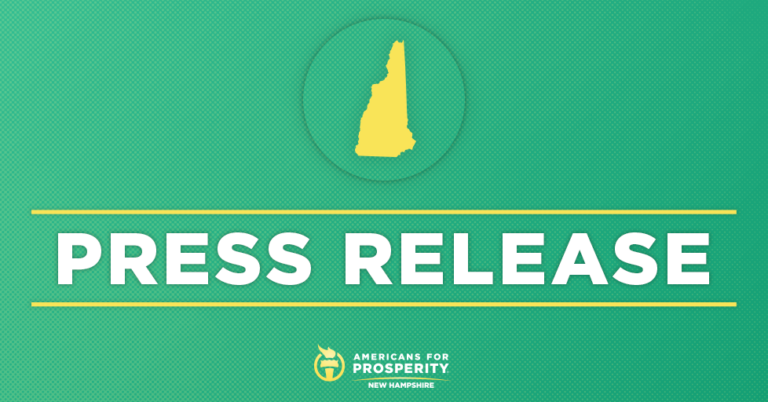 AFP-NH Announces Support for Bill Boyd in Special Election
CONCORD, NH – Americans for Prosperity-New Hampshire (AFP-NH) today announced its support of Bill Boyd for a special election to fill the seat of the late Speaker of the New Hampshire House of Representatives, Richard Hinch. The election will take place on April 13th.
AFP-NH will use a wide range of tactics, including its signature grassroots outreach, direct-mail, and digital advertisements to urge voters to support this principled candidate that will lead on fiscal responsibility, lower the tax burden on employers and families, and other important issues.
AFP-NH State Director Greg Moore released the following statements:
"Bill Boyd has been a leader in his community for years and is a consistent advocate for fiscal responsibility and lower tax burdens for Merrimack workers, families, and employers. Now more than ever, we need legislators who are good stewards of taxpayer dollars, will work to remove government barriers holding people back from accessing quality, affordable health care, and support the ability for workers to have more control over their paycheck. We are excited to back Bill Boyd and strengthen our New Hampshire Advantage, so our state can continue serving as a beacon for economic growth and opportunity for all Granite Staters."
Background:
Bill Boyd (Hillsborough 21): Bill Boyd has championed sound policy solutions to the challenges Granite Staters face as a member of the Merrimack Town Council, working to advance positive reforms on how local government can utilize tax dollars more efficiently. Boyd's deep understating and experience with balancing budgets and reducing unnecessary spending will ensure taxpayers have a watchdog in Concord.
21 state legislative and Executive Council candidates AFP-NH endorsed last year won their races in the November elections. AFP-NH also endorsed Governor Chris Sununu last year in his successful bid to serve another term as governor. The grassroots group contacted over 500,000 Granite Staters in support of Governor Sununu through a combination of mail, digital, door-door, phone banking, and text messaging efforts.