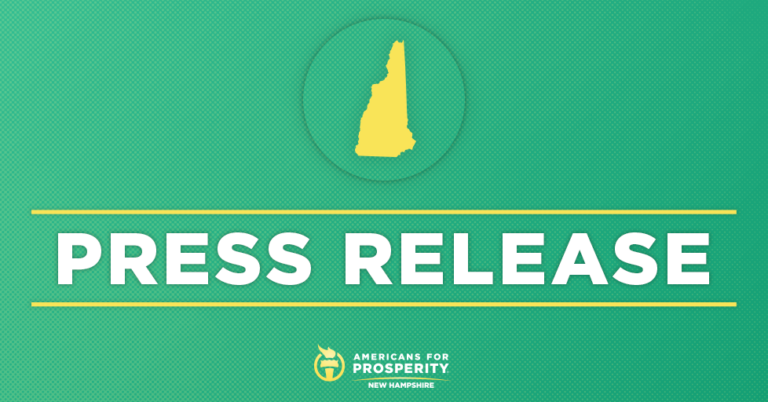 AFP-NH Announces Fourth Round of State Legislative Endorsements
CONCORD, NH – Americans for Prosperity-New Hampshire (AFP-NH) today announced its fourth round of endorsements comprised of three candidates for State House of Representatives. This brings AFP-NH's total engagement in state legislative races to 17 key races.
AFP-NH sets a high bar for political endorsements, supporting candidates that have indicated leadership in tackling the greatest challenges Granite Staters face.
AFP-NH State Director Greg Moore issued the following statement:
"We're proud to support three more great candidates running for the state legislature. Their commitment to helping Granite Staters keep more of what they earn, reduce health care costs, and ensure families have affordable utilities is what's needed to have our economy recover stronger. Our activists look forward to helping elect these principled candidates and solve some of our state's biggest issues."
Each candidate earned the support of AFP-NH for their dedication to championing principled policy solutions:
Hon. Elizabeth Ferreira (Hillsborough 28): Elizabeth Ferreira was a leader on the Commerce committee, helping eliminate harmful regulations for small businesses. She will continue to champion expanding educational opportunity for our students and be a staunch supporter of reducing taxes for Granite State families and businesses.
Hon. Len Turcotte (Strafford 4): Len Turcotte will continue to champion lower taxes. In 2017, he helped pass a budget that provided significant tax relief for employers. He will continue to be a reliable supporter for worker freedom and reject government mandates that will raise utility prices for Granite Staters.
Rep. Michael Vose (Rockingham 9): Rep. Michael Vose is a leader in fighting for affordable utility prices, sponsoring and passing numerous bills that increase transparency, hold regulators accountable and reduce costs of energy to the state's consumers. Rep. Vose also understands we need to clear away harmful regulations to help build a more resilient economy. He has sponsored legislation to eliminate barriers for small businesses by reducing unnecessary regulations and legislation to require a fiscal impact of regulations before implementing them.
This advertisement has been paid for by Americans for Prosperity, Greg Moore, Treasurer, 767 Islington St, Portsmouth, NH, and has not been authorized by a candidate.