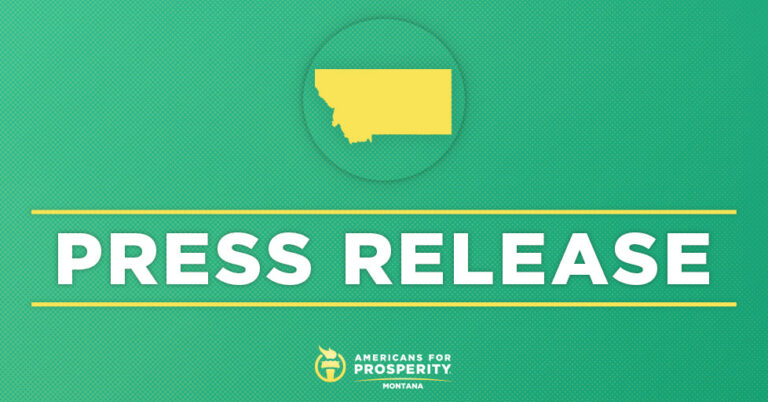 AFP-MT Releases Slate of State Legislature General Election Endorsements
HELENA, MT – Americans for Prosperity-Montana (AFP-MT) today announced it has endorsed a slate of general election candidates for the Montana State Legislature.
These leaders earned the endorsement of AFP-MT through their support for principled policy solutions that seek to increase opportunity for every Montanan. AFP-MT will leverage the full weight of its grassroots activists, among other tactics, to urge voters to elect these strong community leaders in November.
Several candidates announced today were endorsed by AFP-MT during the primary election and will continue to be supported by the organization during the general. Newly endorsed general election candidates are Casey Knudsen (HD-33), Jedediah Hinkle (HD-67), Jennifer Carlson (HD-69), Kaitlyn Ruch (HD-84), Randy Chamberlin (SD-32), and Brad Tschida (SD-49).
AFP-MT State Director David Herbst released the following statement on the endorsements:
"This slate of candidates represents some of the very best policy champions for everyday Montanans. The dedication, passion, and innovation each of these individuals will bring to the legislature is an asset to our state. From increasing educational opportunities for every student to cutting burdensome overregulation, these are the individuals who have the talent and experience to achieve real concrete legislative wins at the Capitol. We look forward to working alongside these candidates upon their election to the legislature."
BACKGROUND
Speaker Pro Tempore Casey Knudsen (HD-33)
Rep. Knudsen understands that Montana families are being crushed by skyrocketing inflation. He supports lower state income taxes and responsible spending to ease the financial burden on hardworking taxpayers. Rep. Knudsen is a leader on criminal justice reform and has taken a lead role in supporting legislation that will limit drivers' license forfeiture timelines.
State Rep.  Jed Hinkle (HD-67)
At 91%, Jed Hinkle is one of AFP's Policy Champions. As a business owner, Rep. Hinkle understands the harm that excessive and intrusive government regulations can have on small businesses and he will work to end unnecessary and burdensome regulations and mandates. He has put the interests of Montana taxpayers ahead of the special interest by voting against giving tax incentives to the film industry.
State Rep. Caleb Hinkle (HD-68)
Rep. Caleb Hinkle was named an AFP-MT policy champion with a 93% ranking on the organization's 2021 legislative scorecard and has been a leader on regulatory reform. He is the sponsor of legislation to review rules that were suspended during the COVID crisis to identify those that should be permanently rescinded. He voted to make telehealth more permanent, protect health care sharing ministries, and revise certificate-of-need laws to increase health care competition and access, and lower costs. A supporter of education reform, he voted for tax credit scholarships, special needs education savings accounts, and education accounts for use in K-12 education.
State Rep. Jennifer Carlson (HD-69)
Rep. Carlson has supported policies that get the government out of the way. To improve health care, Rep. Carlson voted for legislation to allow doctors to sell prescriptions from their offices and certificate-of-need reforms that increase health care access at lower costs to consumers. She also voted for legislation to expand educational opportunities for Montana children, including a program to increase options for special-needs children.
Kaitlyn Ruch (HD-84)
Kaitlyn Ruch is a first-time candidate at only 18 years old. When elected to the State House of Representatives, Ruch will work to empower parents with greater education options to better meet the individual learning needs of their children. Ruch will support legislation to reform state occupational licensing laws, which force workers in certain jobs to get a government permission slip to work. Such laws limit opportunities and business development. Ruch was named Distinguished Young Woman of Montana for 2022.
Lyn Hellegaard (HD-97)
As a member of the Missoula City Council, Lyn Hellegaard has a track record of voting against reckless spending projects and tax increases. Hellegaard testified along with AFP activists in 2018 in opposition to a 3.6% general tax increase. In the city council, she demonstrated a willingness to stand on principle and actively opposed corporate welfare, such as tax increment financing handouts. She also understands how unnecessary and burdensome regulations can hurt people and businesses.
State Rep. John Fuller (SD-04)
As a former high school teacher and member of the Montana Board of Public Education, John Fuller will be an education freedom champion in the Montana State Senate. Fuller has a consistent voting record in the State House in support of policies that expand education opportunities, including tax credit scholarships and 529 plans. Fuller also supported health care policies that expand access to care and reduce costs. He voted to reform harmful certificate-of-need regulations that put special interests over health care consumers and to expand telehealth that proved so vital during the COVID crisis.
State Rep. Barry Usher (SD-20)
Barry Usher has a consistent record in the State House of supporting legislation to empower parents with the ability to choose education options that best meet the needs and challenges of their children. Usher voted for tax credit scholarships and to permit 529 tax-exempt savings to be used for K-12 expenses and supported legislation that created a savings account to help parents offset the costs of educating special needs children if parents choose a program outside the public school system. Usher will continue to support policies that increase health care choices at affordable costs, as he did in the House, where he supported certificate-of-need reform and telemedicine expansion. As a small business owner, Usher will continue to press for more regulatory reform that unleashes greater innovation.
Randy Chamberlin (SD-32)
As a small business owner, Chamberlin knows the harmful impact of regulations on businesses that are trying to keep pace and grow in a struggling economy and he has a record of fighting the overburdensome regulations facing housing and economic development. In the Senate, he will work to break down regulatory barriers that limit housing and drive-up costs. He will also support regulatory sandbox reform. Chamberlin will work to increase education choices to empower parents with more options to meet their children's unique learning needs.
Brad Tschida (SD-49)
As a former teacher and school administrator, Brad Tschida can call on his professional experience and leadership to play a crucial role in giving every Montana student the education that best fits their needs. He supports introducing public charter schools to give families more choices, education scholarship accounts and tax credit scholarships. As House Majority Leader, Tschida championed regulatory reform, playing a key role in enhancing legislative oversight of the use of emergency powers by the governor, other members of the executive branch, and at the local level. He is also a supporter of the REINS Act, which would require a study to determine the economic impact of proposed regulations, and give proper authority and accountability to the legislature for passing costly regulations.