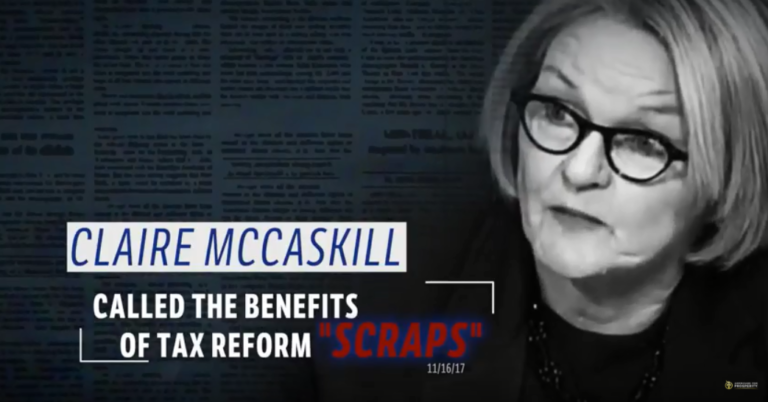 AFP-Missouri Launches Second TV Ad Holding Sen. McCaskill Accountable For Tax Reform Vote and Calling It "Scraps"
JEFFERSON CITY, Mo. – Americans for Prosperity-Missouri (AFP-MO) is launching a nearly $2 million ad campaign in Missouri on Thursday, highlighting a family's story about how they are benefiting from tax reform. The ad also highlights how U.S. Sen. Claire McCaskill's vote against the Tax Cuts and Jobs Act was a vote against hard-working families keeping more of their hard-earned money and urges Missourians to tell her to support higher paychecks for workers. This is the second wave of the grassroots group's efforts, which includes supplemental digital ads, to inform Missourians of the benefits of tax reform and Sen. McCaskill's voting record.
The effort expands on AFP's previous seven-figure investment on the same topic in February (read more). The new advertisements will begin Thursday and will run into April.
In the spot, Lindsay, a working mother of three, shares her story about getting an email at work informing employees that they would receive a $2,000 bonus because of the Tax Cuts and Jobs Act:
"It is clearly helping middle-class and everyday-working Americans. When I heard Claire McCaskill describe the tax cuts as 'scraps,' I think it's disrespectful. Getting bonuses and tax cuts — that's huge for families like mine."
The ad calls on Missourians to urge Sen. McCaskill to "support bigger paychecks."
Hardworking Americans are already seeing the benefits of the Tax Cuts and Jobs Act as hundreds of companies invest in their employees and communities by creating jobs and increasing wages. Sen. McCaskill voted to deny individuals and families these benefits, choosing party over common sense economic relief for middle class families.
This ad effort is part of AFP's campaign to hold accountable lawmakers who voted against the pro-growth reform.
AFP-MO State Director Jeremy Cady released the following statement:
"While Sen. McCaskill claims she's fighting for middle-class families, she scoffs at Missourians keeping more of their money and calls bonuses like the one Lindsay got 'scraps.' How out-of-touch do you have to be to think $2,000 is scraps? Our activists tell us even a few bucks every paycheck can help pay bills or save for their kids' future. By voting 'no' on tax reform, Sen. McCaskill proved she doesn't stand for middle-class families. Her actions speak louder than her out of touch, D.C. rhetoric.  
"We're proud to champion the tax cuts that have provided much-needed relief to families like Lindsay's and enabled countless Missouri companies to shell out employee bonuses, raises, and other benefits. This ad campaign is important to make sure the truth gets out about how tax reform is benefiting middle-class families, instead of politicians purposely using misleading political talking points to excuse their bad vote."
BACKGROUND:
Senator McCaskill Said No To Tax Reform, Describing The Benefits To Missourians As "Scraps"
Senator Claire McCaskill Voted Against The Tax Cuts and Jobs Act Of 2017. (H.R. 1, Roll Call Vote #323: Passed 51-48: R 51-0; D 0-46; I 0-2, 12/20/17, McCaskill Voted Nay)
McCaskill Called The Benefits Of Tax Reform "Scraps" For Missourians. McCaskill: "I wanted to support real tax reform. This isn't it—this is a bad deal for Missouri families. Working people in Missouri deserve better than to get scraps, while corporations and wealthy business owners make out like bandits in a plan that explodes our deficit and compromises our military. But I'm still going to keep fighting for my state—and if Congressional leaders decide to toss out this proposal and start fresh with a genuinely bipartisan approach that delivers real tax relief to working people, cleans out the loopholes exploited by the rich and corporations, and lowers the corporate tax rate, I'll be the first to sign up." (Press Release, McCaskill: 'I Wanted To Support Real Tax Reform. This Isn't It—This Is A Bad Deal For Missouri Families," Senator Claire McCaskill, 11/16/17)
Missourians Are Already Reaping The Benefits Of Tax Reform
Missouri-Based Great Southern Bancorp Inc. Will Give All Full-Time Employees A $1,000 Bonus And All Part-Time Employees A $500 Bonus As A Direct Result Of Tax Reform. "A Springfield-based banking company plans to give one-time bonuses to more than 1,200 employees following the federal tax overhaul recently approved by Republicans in Washington, D.C. Great Southern Bancorp, Inc., says it will pay $1,000 in cash to all full-time employees and $500 to part-time workers who were employed by the bank on Dec. 31. In a news release, Great Southern specifically cited the federal tax reform legislation that Congress passed and President Donald Trump signed into law in December." (Will Schmitt, "Citing GOP Tax Reform, Springfield Bank To Pay Bonuses To All Employees," Springfield News-Leader, 1/4/18)
Missouri-Based Hostess Will Give Employees A $1,250 Bonus In Addition To A Year Of Free Snacks. "Kansas City-based Hostess Brands will give corporate and hourly baker employees a $1,250 bonus, which includes $750 in cash and a $500 401(k) contribution. More than 1,000 employees will receive bonuses. But the Twinkies maker is sweetening the deal even more with free Hostess snacks for a year. Once a week, employees will be able to take home a multipack of the 'product of the week,' which will be chosen weekly by a representative from each Hostess bakery." (Leslie Collins, "Hostess Brands Sweetens New Tax Reform Law With Employee Bonuses," Kansas City Business Journal, 2/1/08)
Kansas City Power And Light Requested A Rate Update To Pass Along 100% Of Its Savings From Tax Reform, Totaling $65 Million For Customers In Missouri. "KCP&L and KCP&L-Greater Missouri Operations Company (KCP&L-GMO), subsidiaries of Great Plains Energy Incorporated (NYSE: GXP), recently requested rate updates for their Missouri customers. The requests will update rates for several customer experience enhancements, including technology and green initiatives. Additionally, the companies are asking to pass along to customers 100% of the savings resulting from the Tax Cut and Jobs Act. This will result in approximately $65 million in savings for customers in Missouri." (Kansas City Power And Light, "KCP&L Files Rate Update Requests With Missouri Public Service Commission," Press Release, 1/31/18)