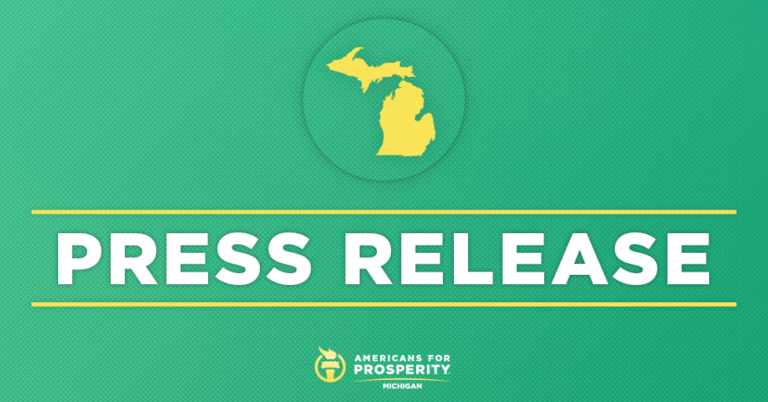 AFP-MI Backs Lana Theis for Michigan Senate
Lansing, Michigan—Americans for Prosperity Michigan (AFP Michigan) today endorsed State Sen. Lana Theis for reelection to the Michigan State Senate.
Since 2007, Sen. Theis has been a strong voice in the State Senate, pushing back against corporate bail outs, burdensome regulations, and irresponsible government spending.
AFP Michigan will leverage a wide range of tactics, including its signature grassroots mobilization, direct-mail, and digital advertising, to help Sen. Theis succeed in her re-election and to continue to be a leader who puts the people's interests first.
AFP-Michigan State Director Annie Patnaude made the following statement in support of Sen. Theis' candidacy:
"I'm thrilled to support Sen. Theis for the Michigan State Senate. Her track record of fighting for Michigan extends beyond her political career, when she worked as an activist for Michiganders. And unlike many politicians who win office, Sen. Theis has not forgotten who or what she's fighting for. She's continued to advocate for the right of Michiganders to make the choices that best empower their families and businesses.

"AFP activists are ready to campaign for this champion of executive accountability, government restraint, and individual freedom."
State Sen. Lana Theis (SD-22)
During her time in office, Sen. Theis has worked to free Michigan from unnecessary and harmful regulations that stand in the way of economic growth and increased opportunities. She has cosponsored legislation that would require the state to review occupational licensing requirements that create unnecessary barriers to the workforce, and she voted against the creation of similar new licenses. In 2020, Sen. Theis voted against excessive state regulations in alcohol distribution, gas station operations, and auto insurance.
In 2015 and 2016, she voted to reduce government spending and preserve the state's Rainy Day Fund, ensuring that Michigan is able maintain fiscal stability in the event of an economic downturn. At the same time, she has a strong record of opposing tax increases and increasing administrative costs that inevitably get passed on to taxpayers.
Sen. Theis' consistent voting record empowers Michiganders to take control of their lives. Throughout the COVID 19 pandemic, she worked to rein in Gov. Whitmer's unilateral, top-down approaches that have shuttered Michigan's economy, endangered the lives of senior citizens, and unconstitutionally bypassed the peoples' duly elected representatives in the legislature. She has voted to hold the governor accountable for her decision to force COVID-positive patients into elderly care facilities and voting to approve the citizen-led petition to Unlock Michigan.
-###-