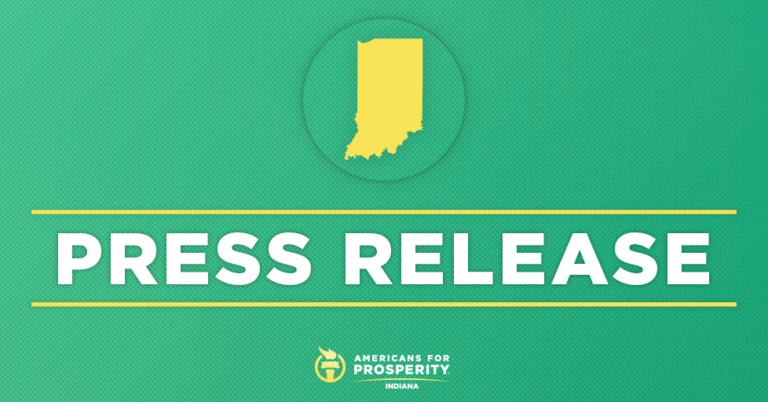 AFP-IN Launches 2nd Wave of TV Ads Holding Senator Donnelly Accountable for "No" Votes on Tax Reform
In new ad, small business owner shares how tax reform helps grow business
INDIANAPOLIS, Ind. – Americans for Prosperity-Indiana (AFP-IN) on Thursday will launch the second wave of a major ad campaign in the Hoosier State, sharing the story of an Indiana small business owner about how tax reform is allowing her to grow her business and help her community, and highlighting U.S. Senator Joe Donnelly's vote against the Tax Cuts and Jobs Act.
The grassroots group is investing more than $2 million in TV and digital ads asking citizens to hold Senator Donnelly accountable by urging him to support policies that lead to higher paychecks for Hoosier families. The TV ad is part of a larger $4 million ad buy that will also call out Missouri Senator Claire McCaskill.
The effort expands on AFP's previous seven-figure investment on the same topic in February. (Read more). The new pair of ads will run on television and digital platforms across Indiana and Missouri in the coming weeks.
In the Indiana ad, a small business owner named Cathy shares how the tax cuts are allowing her to invest in her business. She expresses disappointment at the fact that Senator Donnelly voted against putting money back in American's pockets.
"Senator Donnelly just doesn't realize the impact that these tax cuts have on the everyday person, and the everyday business. Joe Donnelly let Hoosiers down," Cathy says.
The ads call on Senator Donnelly to "support higher paychecks" for Hoosiers.
Hardworking Americans are already seeing the benefits of the Tax Cuts and Jobs Act as hundreds of companies invest in their employees and communities by creating jobs and increasing wages. Senator Donnelly voted to deny individuals and families these benefits, choosing party over the well-being of citizens in his state.
This ad effort is part of AFP's campaign to hold accountable lawmakers who voted against the pro-growth reform and supplements the organization's robust grassroots activities throughout the state, with numerous everyday Hoosiers posting pictures of themselves with huge checks on social media to illustrate the bigger paychecks they're already seeing as a result of tax reform.
AFP-IN State Director Justin Stevens released the following statement:
"Don't let Senator Donnelly fool you – he chose partisan politics over higher paychecks for Hoosiers. Our activists have long been committed to holding opponents of tax reform accountable for seeking to deny individuals like Cathy the opportunity to improve their lives. Joe Donnelly let us down, sided with Chuck Schumer and Nancy Pelosi, and ignored an opportunity to meaningfully help workers and families in his state."
BACKGROUND:
Senator Donnelly Said No To Tax Reform
Senator Joe Donnelly Voted Against The Tax Cuts and Jobs Act Of 2017. (H.R. 1, Roll Call Vote #323: Passed 51-48: R 51-0; D 0-46; I 0-2, 12/20/17, Donnelly Voted Nay)
Hoosiers Are Already Reaping The Benefits Of Tax Reform
First Merchants Corporation In Muncie, Indiana Announced It Will Increase Hourly Employees' Wages $1 Per Hour As A Result Of The Tax Reform Bill. "First Merchants Corporation announced today that it will raise the wage paid to hourly employees by $1 per hour as a result of the Tax Cuts and Jobs Act of 2017 signed by President Trump in Dec. 2017. … Additionally, as a reward for the company's strong 2017 performance, all associates, excluding senior management, will receive a $500 one-time cash bonus. Part-time associates will receive a pro-rated share. The compensation investments will impact nearly 90 percent of First Merchants' 1,700 employees and will be in addition to the company's existing incentive programs and annual merit increases. … First Merchants Corporation is a financial holding company headquartered in Muncie, Indiana." ("First Merchants Announces Company-Wide Raise, Bonuses," NASDAQ, 1/16/18)
First Farmers Bank & Trust In Converse, Indiana Announced That It Would Raise The Minimum Wage For All New Employees And Provide A Minimum Year-End Bonus Of $750 To All Full Time Employees. "In response to the recently passed legislation affecting corporate tax, Gene Miles, President and CEO of First Farmers Bank & Trust recently announced a new corporate wage and community support program that commits to four points of emphasis. 1. Raise the minimum hourly starting wage by $2.50 for all new FFBT employees. 2. Provide a minimum year-end bonus of $750 annually to all full time FFBT employees." (Press Release, "First Farmers Announces Employee Wage Raise And Community Investment Program," First Farmers Bank & Trust, 12/26/17)

"The Biggest Wage Increase In Its 133-Year History." (Carson Gerber, "A Tax-Bill Boom: Area Employees See Pay Raises, Bonuses After Corporate Tax Cut," Kokomo Tribune, 1/14/18)

ABC 21: "Prominent Northeast Indiana Bank Pledges Raises, Cites Tax Reform As Reason." "Fifth Third bank, which has numerous locations in and around Fort Wayne, says it will raise its minimum hourly wage and provide a one-time bonus to thousands of employees now that a Republican tax reform package has been passed. The company, based in Cincinnati, intends to set a minimum pay rate of $15 per hour and to distribute a one-time bonus of $1,000 to more than 13,500 employees. It says about 75 percent of its workforce will benefit from at least one of the measures. In a news release, officials cited newly passed tax legislation, which includes a reduction in corporate tax rates, as part of the reason for the decision." (Jonathan Shelley, "Prominent Northeast Indiana Bank Pledges Raises, Cites Tax Reform As Reason," WPTA, 12/20/17)
For further information or an interview, reach Lorenz Isidro at LIsidro@afphq.org or (703) 887-7724. 
Americans for Prosperity (AFP) exists to recruit, educate, and mobilize citizens in support of the policies and goals of a free society at the local, state, and federal level, helping every American live their dream – especially the least fortunate. AFP has more than 3.2 million activists across the nation, a local infrastructure that includes 36 state chapters, and has received financial support from more than 100,000 Americans in all 50 states. For more information, visit www.americansforprosperity.org
###