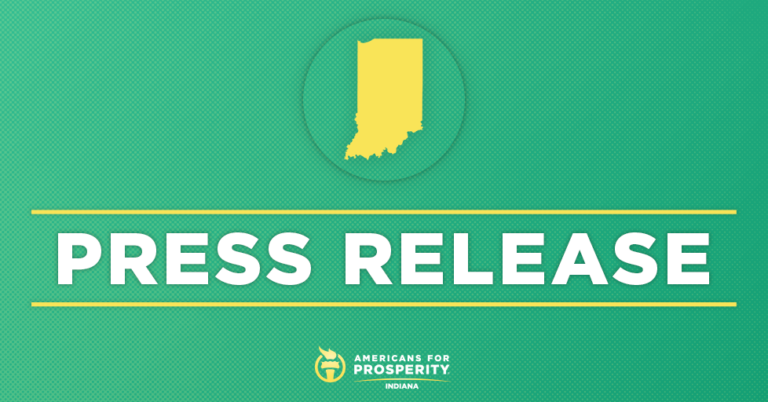 AFP Launches 7-Figure TV Effort Holding Senator Donnelly Accountable for "No" Votes on Tax Reform
Indianapolis, Ind.  – Americans for Prosperity-Indiana (AFP-IN) announced it will on Thursday launch a major ad campaign in the Hoosier State informing citizens about Senator Joe Donnelly's vote against tax reform. The grassroots group is investing in TV and digital ads asking citizens to send a message to Donnelly urging him to support policies that put hardworking taxpayers first.
Throughout his career, Donnelly has paid lip service to supporting tax reform, but ultimately put partisan politics ahead of growth and prosperity for his constituents by voting against the recently enacted Tax Cuts and Jobs Act. The TV ad is part of a larger $4 million ad buy that will also call out Missouri Senator Claire McCaskill.
This ad effort is part of AFP's campaign to connect Americans to the benefits of the Tax Cuts and Jobs Act and hold accountable lawmakers by urging them to support policies that help hardworking taxpayers. The grassroots group is undertaking a major campaign to promote the historic tax reform law with the goal of ensuring all Americans understand the impact in their daily lives.
WATCH THE AD:
AFP-IN State Director Justin Stevens released the following statement:
"Joe Donnelly rejected a once-in-a-generation opportunity to pass pro-growth tax cuts and help hard-working Hoosiers struggling to get ahead. Donnelly for years told us he supported tax reform, but when it came time to vote, he sided with Chuck Schumer and Nancy Pelosi instead of Hoosier families.
"We spent much of 2017 urging Donnelly to support tax reform, and we said our activists would be ready, willing, and able to hold him accountable if he didn't. Hoosiers deserve better, which is why we're committed to ensuring they understand how tax reform will improve their lives and to encourage Sen. Donnelly to support policies that put Hoosier jobs first."
SCRIPT:
Tax reforms is sweeping across Indiana.
Small businesses are growing. Paychecks are going up.
Families are saving more for what matters.
Hoosier pride is back
Senator Joe Donnelly said he'd support tax cuts for hard working Hoosiers
But when he had the chance, he said no, voting against tax cuts for you –
Standing with Chuck Schumer and Nancy Pelosi, instead of us.
Tell Senator Donnelly to put Hoosiers jobs first.
IN HIS OWN WORDS:
Senator Joe Donnelly said he'd support tax cuts for hardworking Hoosiers, but when he had the chance, he said no. Throughout his career in public office, he's supported reducing the corporate tax rate, called middle-call tax relief "of critical importance," and encouraged tax simplification that preserved the mortgage interest deduction. Despite supporting these provision, Donnelly voted against the tax cuts and jobs act of 2017.
In 2012, Joe Donnelly called for reducing the corporate tax to 25 percent saying it would bring companies back to the U.S.
SENATOR DONNELLY: "I would support reducing the tax on small businesses, and all businesses, corporations to 25%. And what we're able to do by that is it's able to make our companies more competitive and it will help us to be able to bring more businesses right back to our own country." (IndianaDebate, "2012 Indiana US Senate Debate," YouTube, 10/16/17, @12:10)
In 2007, Donnelly said "I believe middle-class tax relief is of critical importance."
CONGRESSMAN DONNELLY: "As your congressman, I believe middle-class tax relief is of critical importance to what should be one of our country's top priorities: strengthening the middle class. That is why I was pleased to recently vote for The Temporary Tax Relief Act. Named for the temporary one-year provision that would protect over 33,000 Second District taxpayers from an unexpected tax increase under the Alternative Minimum Tax, this legislation also would provide additional tax relief to Hoosier families where they need it the most." (Representative Joe Donnelly, "DONNELLY: Some Tax Relief For Middle Class;" Kokomo Tribune, 12/6/07)
BACKGROUND:
Throughout 2017, AFP-IN had urged Indiana's federal congressional delegation to support tax reform through digital ads, phone banking, canvassing, and events. In August, hundreds attended a series of tax reform panel discussions AFP-IN hosted in Indianapolis and Fort Wayne that featured Rep. Trey Hollingsworth and Rep. Jim Banks. In late September, AFP state directors from across the country stormed Washington, D.C. to meet with White House leaders and lawmakers to highlight the beneficial impact of tax reform done right.
In early October, AFP-IN announced a seven-figure television and digital ad buy as the grassroots organization expanded its effort to urge Senator Joe Donnelly to unrig the economy by supporting tax reform.
For further information or an interview, reach Lorenz Isidro at LIsidro@afphq.org or (703) 887-7724.