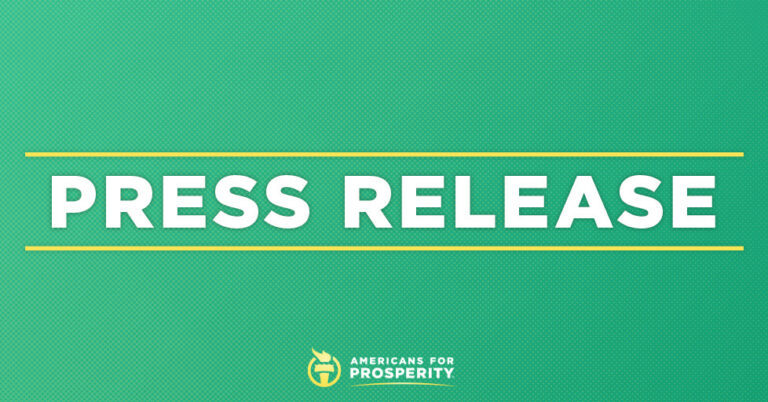 AFP-Illinois Boosts Efforts to Keep Illinois Flat
GENEVA, Ill. –Americans for Prosperity-Illinois (AFP-IL) on Thursday announced new direct mail and digital investments as the next phase of the group's ongoing "Keep Illinois Flat" grassroots campaign calling on lawmakers to oppose scrapping Illinois' flat income tax for a graduated one. The announcement comes as the debate moves to the House after Senate passage of the graduated income tax legislation on Wednesday. AFP-IL has long opposed forcing a graduated income tax on taxpayers. The new investment, which follows a series of town hall meetings hosted with lawmakers during the two-week Spring Break, includes digital ads and direct mail in key State House districts.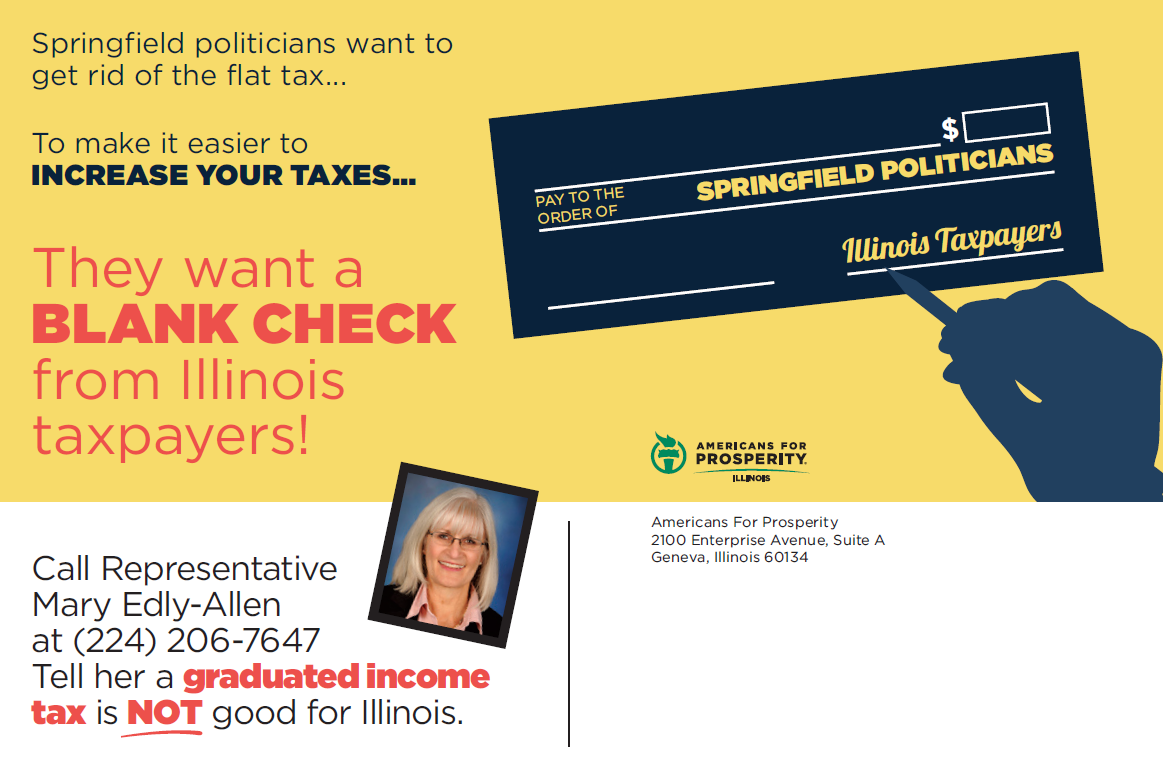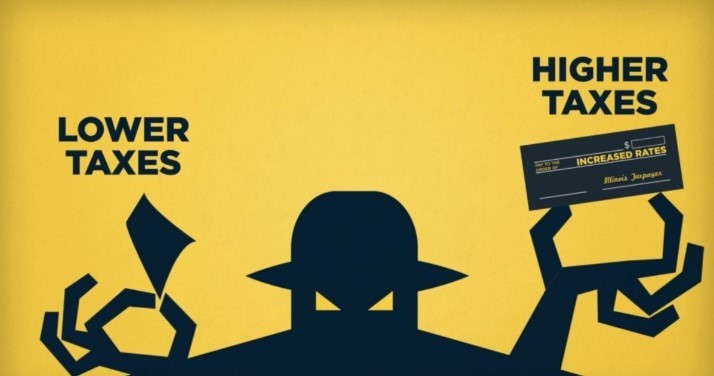 AFP-IL State Director Andrew Nelms issued the following statement:
"We already pay some of the highest taxes in the country, and now some politicians want even more tax power. A graduated income tax scheme would make it easier for lawmakers in Springfield to create multiple tax brackets and increase taxes on families and small businesses. We urge lawmakers to 'Keep Illinois Flat' by standing up for taxpayers and working on creative solutions to get our fiscal house in order."
Digital ads and direct mail will urge the following ten state representatives to oppose the graduated income tax:
Diane Pappas (45th District), Terra Cost Howard (48th District), Mary Edly-Allen (51st District), Jonathan Carroll (57th District), Daniel Didech (59th District), Sam Yingling (62nd District), Lance Yednock (76th District), Sue Scherer (96th District), Monica Bristow (111th District), and Katie Stuart (112th District).
Additionally, digital ads will urge the following twelve state representatives to oppose the graduated income tax:
Yehiel M. Kalish (16th District), Anna Moeller (43rd District), Fred Crespo (44th District), Deb Conroy (46th District), Martin J. Moylan (55th District), Michelle Mussman (56th District), Joyce Mason (61st District), Michael Halpin (72nd District), Anthony DeLuca (80th District), John Connor (85th), and Natalie A. Manley (98th District).
DIGITAL SCRIPT:
"When politicians in Illinois have an opportunity to raise taxes, they take it – like when they hiked income taxes 32%," the video states. "Our property taxes are some of the highest nationwide. Now some lawmakers want to scrap our flat income tax and replace it with a graduated one. At any time, they can add brackets or increase rates. A blank check signed by you, the taxpayer. How do you think Springfield will use that power?"
Background:
​​​​​​​AFP-IL on Senate Passage of Graduated Income Tax Bill (5/1/19)
AFP-IL: Taxpayers Shouldn't be Fooled by Governor's Proposal (3/7/2019)
AFP-IL on Pritzker Budget: Keep Illinois Flat (2/20/19)
For further information or an interview, reach LORENZ ISIDRO at LIsidro@afphq.org or (703) 887-7724. 
Through broad-based grassroots outreach, Americans for Prosperity (AFP) is driving long-term solutions to the country's biggest problems. AFP activists engage friends and neighbors on key issues and encourage them to take an active role in building a culture of mutual benefit, where people succeed by helping one another. AFP recruits and unites Illinoisans behind a common goal of advancing policies that will help people improve their lives. For more information, visit www.americansforprosperity.org
###