Please select your state
so that we can show you the most relevant content.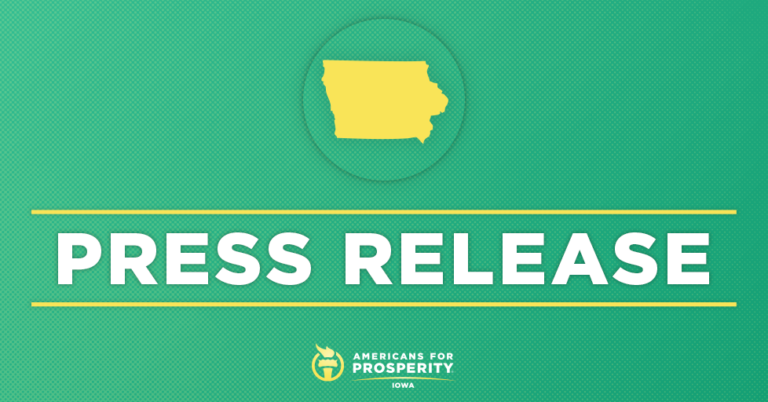 AFP-IA On Just Passed Tax Reforms: Good But Not Good Enough
Lawmakers, Gov. Reynolds deliver minor tax relief for Iowa families, more work to be done
Des Moines, IA – Americans For Prosperity-Iowa (AFP-IA) applauds the desperately needed tax reforms passed today, but finds a fatal flaw in the new plan. Lawmakers in Iowa passed state tax reforms that are an important step toward putting the Hawkeye state on a path to economic prosperity, but include a 4 percent revenue growth trigger that will keep the state from fully realizing the benefits of lower tax rates. AFP-IA State Director Drew Klein called on Hawkeye legislators to "go bold on tax reform." Today, lawmakers came close, but could have done better.
"It's good to see lawmakers come together to get much needed reforms to our outdated tax code over the finish line. But this isn't a slam dunk," said AFP-IA State Director Drew Klein. "In order for the most substantial cuts in the new plan to occur, Iowa needs to see a nearly unattainable level of revenue growth over the next several years. This economic growth trigger is meant to protect our budget in case of an unexpected downturn in the economy. But setting it much higher than it needs to be will prevent Iowans from ever realizing the benefits of lower rates. Lawmakers must work to lower this trigger so that Iowans actually see the relief they're being promised."
At almost 9 percent, Iowa's top income tax rate was higher than rates in New York and Washington, D.C. and the state's corporate tax rate was the highest in the country. The reforms passed today will lower rates across the board and offer Iowans greater predictability – particularly for small businesses — when planning for the future. While a step in the right direction, there are still opportunities for Iowa lawmakers to further untangle Iowa's complex tax code including lowering the economic growth trigger to 2.5 percent and taking a critical look at the current system of tax credits.
Tax reform has been a central part of AFP-IA's agenda. In just the last year, AFP activists have reached over 60,000 Iowans, by phone and knocking on doors, on this issue alone.
© 2023 AMERICANS FOR PROSPERITY. ALL RIGHTS RESERVED. | PRIVACY POLICY