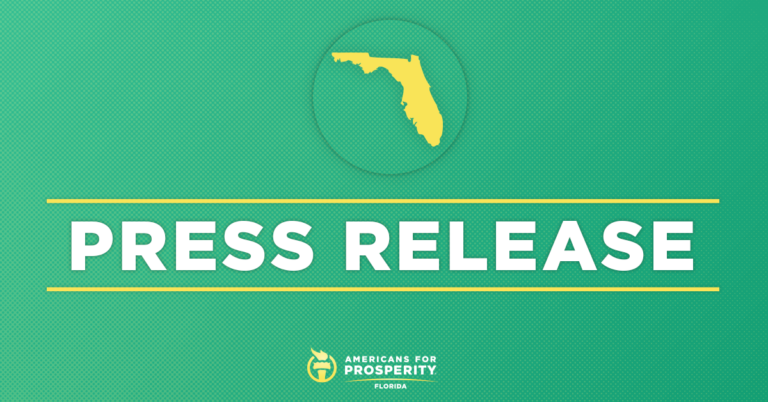 AFP-FL Launches Six-Figure Digital Ad Blitz to Protect Florida Workers, Economy
Tallahassee, FL – Americans for Prosperity-Florida (AFP-FL) today announced a significant six-figure digital ad campaign urging Floridians to protect jobs, workers, and economic recovery by voting against Amendment 2. The ballot initiative would raise the state minimum wage to $15 per hour by 2026.
So far, Americans for Prosperity has contacted more than a million Floridians about the ballot initiative and reached a million more through the previous digital ad campaign.
AFP-FL State Director Skylar Zander issued the following statement:
"The last thing our businesses, workers, and families need are fewer jobs, less opportunity, and reduced growth. But that is exactly what they will get with Amendment 2. As we try to get our economy booming again, imposing a one-size fits all wage on small businesses would be devastating for employers who are struggling to keep their doors open.

"Now, more than ever, we need to make it easier for people to work and retain their jobs – not create barriers to work. We are talking with Floridians across the state about the reduced wages, decreased hours, and fewer jobs Amendment 2 would cause. The more people learn about the actual impact this proposed constitutional amendment would have on our state, the more people are rejecting this attempt to cut the bottom rungs off the economic ladder."
Background:
Read Skylar Zander's op-ed in the News-Press about how Amendment 2 would hurt Florida families.
According to a study by economists from Miami University and Trinity University, it is predicted that Amendment 2 will cost Florida at least 158,00 jobs.
A Competitive Enterprise Institute study found that wage hikes come with trade-offs, which include reduced non-wage compensation, fewer job openings, reduced hours, increased automation, higher insurance co-pays, less vacation and personal time, and reduced employee discounts.
Research shows raising minimum wages have negligible impacts on reducing poverty. Only 1/5th of those earning at or below the federal minimum wage today are coming from families in poverty, with 2/3 living in families earning 150 percent or more above the poverty line.
Minimum wage increases have shown to hurt low-wage workers and small businesses across the country. As Reason points out, raising the minimum wage hurt low-wage workers in Seattle: "In Seattle, workers' hours at low-wage jobs went down while the minimum wage went up, leading to a decrease in overall earnings."