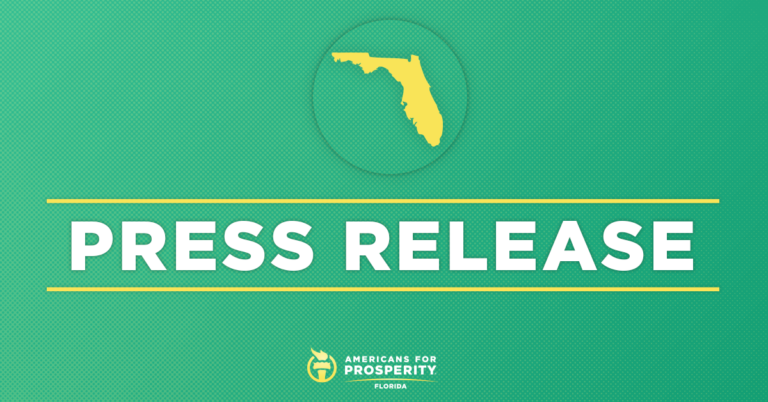 AFP-FL and Freedom Partners Chairman Mark Holden Applauds New Criminal Justice Legislation
Tallahassee, FL – Americans for Prosperity and Freedom Partners Chairman Mark Holden today held a press conference alongside Florida House and Senate leaders to applaud newly introduced legislation to initiate research and much needed data collection on the state's criminal justice system. This critical data will help identify the fundamental flaws with current criminal justice policies by codifying more than 50 measures of data on cases and individuals.  The data would be collected uniformly across counties, within courts, and within the Florida Department of Corrections.
Freedom Partners Chairman Mark Holden issued the following statement:
"Compiling criminal justice data across counties and making it available would be a huge step forward in increasing transparency and accountability in Florida.  It would allow best practices to flourish while informing both good policies and the best allocation of critical resources. And most important, it would enhance public safety. Florida stands to become a national leader on effective criminal justice and a model for other states. We could not do this without the bold leadership of Speaker Corcoran and of the bill sponsors, Representative Sprowls and Senator Brandes."
AFP-FL's state director, Chris Hudson released the following statement: 
"This bill will serve as the lynchpin of reforms that will improve the lives of countless Floridians. The status quo is unsustainable, and we need to remove the labyrinth of excess regulations that trap too many Floridians in an unforgiving and ineffective criminal justice system that doesn't prepare them for life outside prison. We thank Speaker Richard Corcoran and the bill sponsors, Senator Brandes and Representative Sprowls for taking this first step on this important issue that will improve public safety and help more Floridians build on a second chance on becoming productive members of society."
Generation Opportunity-FL's coalition director, Demetrius Minor said:
"Failed criminal justice policies disproportionately impact my generation, as young people represent a substantial portion of both the federal and state prison population. Having more data will help policymakers here understand what works and what isn't working so they can create more effective policies that don't trap young Floridians in a cycle of incarceration. We all make mistakes when we're young, and we believe those mistakes — many of them non-violent — shouldn't haunt individuals for life and deny them access to redemption."
Concerned Veterans for America's Florida Coalitions Director, Diego Echevarri said:
"CVA has long supported more transparency at all levels of government, including our criminal justice system. We appreciate the work of Speaker Corcoran and the sponsors to improve data collection and ensure the system is working for all, making improvements so that individuals can ultimately create value for their neighbors and communities."
The LIBRE Initiative's Florida Coalitions Director, Cesar Grajales said:
"Throughout Florida, Hispanics understand the complex impact that our criminal justice system has on our communities and know that the time has come for reforms that create greater transparency and data collection to address the flaws in our current criminal justice system. We thank Speaker Corcoran and the bill sponsors, Representative Sprowls and Senator Brandes for taking the steps toward building public safety and ensuring individuals receive a second chance to transform their lives."
Americans for Prosperity and its Network partners believe that the criminal justice system's essential role is keeping communities safe and correcting those who are incarcerated so they don't reoffend when they return to society. Led by Holden, the Network recently helped launch a new initiative study the most effective ways of helping incarcerated individuals successfully reenter society after they are released from prison. The Network has long been a strong advocate for policies that ensure that individuals who are imprisoned – many of them for non-violent offenses – are not haunted forever by their past mistakes.
AFP-FL commends Speaker of the House Richard Corcoran, Representative Chris Sprowls, and Senator Jeff Brandes for taking on this important issue to ensure that barriers to entry are removed so more Floridians can achieve their full potential.