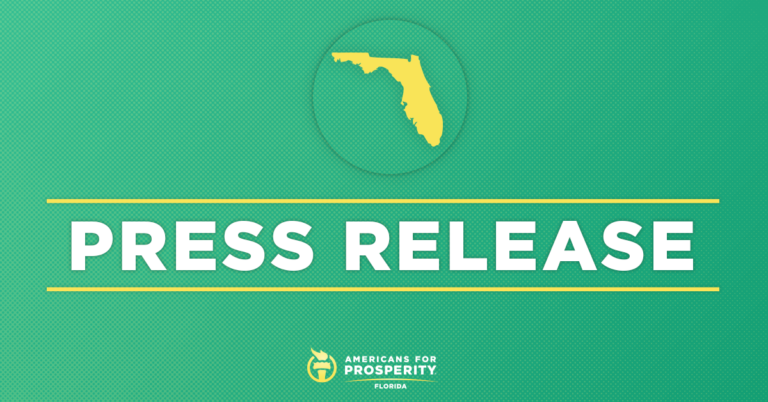 AFP-FL Announces 2018 Legislative Agenda
AFP-FL's 2017 legislative priorities include cuts to wasteful spending, red tape, and restrictions on education choice
TALLAHASSEE – Americans for Prosperity-Florida (AFP-FL), the state's leading grassroots advocacy organization, has released their 2018 Legislative Priorities and annual Legislative Billboard. The Legislative Billboard is produced to help educate citizens about policies that can keep Florida one of the nation's best places to live, work, and raise a family; and, provide lawmakers a clear vision of what policies AFP-FL supports and opposes. AFP-FL will continue to lead the effort at eliminating corporate welfare and spending reforms, push for increased access to education alternatives to traditional public schools, and fight for common sense health care reforms in 2017.
Click here to view AFP-FL's Legislative Billboard
Americans for Prosperity-Florida's state director, Chris Hudson, released the following statement:
"We believe that Florida lawmakers have an unprecedented opportunity to push through policy objectives that can deliver more open, transparent, and efficient government. Our staff and volunteers are eager to engage on policies that will help make Florida the best state to raise a family and start a business. Our billboard serves as a tool for activists and lawmakers to clearly see what bills we intend to support or oppose."
"As Congress has just passed historic tax reform, Florida lawmakers should also seek to reduce the tax burden on citizens and businesses. We should also pursue commonsense solutions to our critical health care needs. Lawmakers should repeal certificate of need (CON) laws once and for all, and pass meaningful reforms to expand scope of practice and direct primary care. And, both chambers should pursue a clear vision to cut red tape and free Florida entrepreneurs to pursue their American Dream."
"We are looking forward to engaging in meaningful debate with lawmakers, and hope that we can continue to serve as a valuable source for how to propel policies that can make Florida a more open and free society."
AFP-FL reviews hundreds of bills proposed each session. Policies are chosen based on the group's Five for Florida policy platform it developed in 2012. As bills move through the process, are amended, and continue to be added, AFP-FL will act to inform legislators of their level of support or opposition, and will adjust the billboard throughout the course of the legislative session.
AFP-FL, activists, and volunteers from across the state will travel to Tallahassee to participate in the legislative process through sincere testimony in committees, will hold town halls and other education opportunities throughout the state, and will continue to hold elected officials accountable for the votes they take throughout the legislative process. The votes taken on AFP-FL's priority legislation will be tallied and scored on the organization's 2018 Legislative Scorecard.