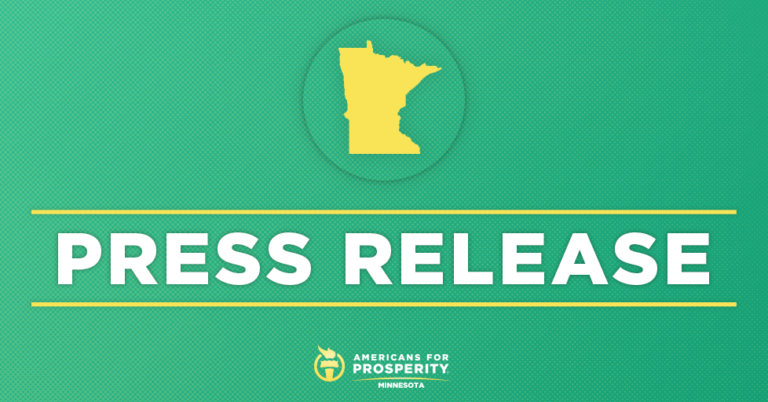 AFP-MN: Erik Paulsen a Proven Policy Leader
Grassroots group announces support for MN-3 Congressman
BURNSVILLE, Min. – Americans for Prosperity-Minnesota (AFP-MN) today announced its support for U.S. Representative Erik Paulsen (MN-3), a policy leader on immigration, trade, and tax reform. The state chapter will now mobilize the grassroots network of thousands of activists and directly advocate for Erik Paulsen's election. The grassroots group will be canvassing, making phone calls, and releasing mail and digital ad buys as part of its effort to highlight Rep. Paulsen's record and encourage Minnesotans to vote for him this November.
"Americans for Prosperity is determined to stand with policy champions who put principles over politics. Congressman Erik Paulsen has demonstrated his commitment to advance economic freedom and lead on important issues like trade and tax reform, which are vital for Minnesotans and the growth of our state," said Jason Flohrs, AFP-MN State Director. "We are proud to support a policy champion on immigration and free trade, who was instrumental in passing the Tax Cuts and Jobs Act, spurring our economy to new heights. Our organization's grassroots capability will go into full effect with our activists urging Minnesotans throughout the 3rd district to vote for Erik Paulsen."
Background:
In just seven months after the Tax Cuts and Jobs Act was enacted, over 1.5 million jobs have been created and claims for unemployment benefits are at their lowest level since 1969. Minnesota companies of all sizes have reaped the benefits of tax reform and announced base wage increases, bonuses, and millions in charitable contributions that positively impact the lives of hundreds of thousands of Minnesotans and their families.
U.S. Bancorp announced $1,000 bonuses for 60,000 employees; a base wage increase to $15 per hour; and $150 million for charitable contributions.
TCF Financial announced $1,000 bonuses for full-time employees, $500 bonuses for part-time employees, and a $5 million donation to their charitable foundation.
Best Buy announced over 100,000 employees will receive a bonus, with full-time employees receiving a $1,000 bonus and part-time employees receiving a $500 bonus.
Data Sales Co., Inc. announced all of their employees will receive a $1,000 bonus.
Ecolab announced it will make a $25 million contribution to its charitable foundation.
As a member of the House Ways and Means Committee, Rep. Paulsen opposed the detrimental border adjustment tax.
Paulsen has been a proponent of free and open trade.
Paulsen has been an advocate for a permanent, legislative fix to DACA.
"Last week, however, Paulsen offered his support to something that Speaker Paul Ryan wishes would just go away: the push to secure a lasting solution for the young, undocumented immigrants known as Dreamers, whose legal status in the U.S. was terminated by President Donald Trump last September." (Sam Brodey, "Rep. Erik Paulsen is the picture of a loyal Republican in the House. So why has he joined the revolt on immigration policy?" Minnesota Post, 5/30/18)