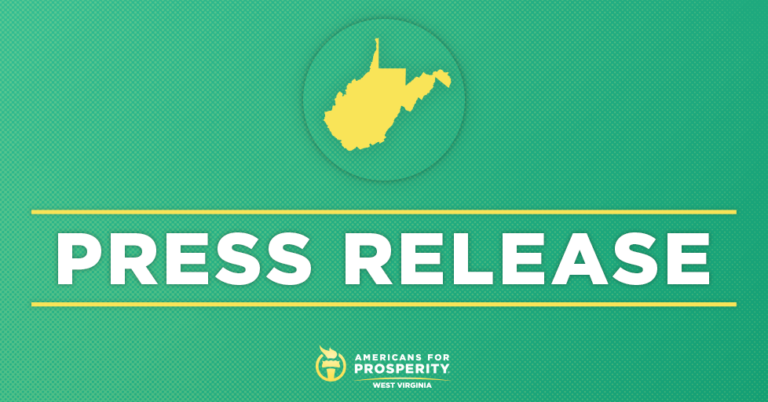 AFP Announces Political Engagement to Break More Barriers for West Virginians
Grassroots group seeks to change politics as usual, empower every West Virginian to drive solutions by doubling down on building broad based coalitions
CHARLESTON, WV – Americans for Prosperity-West Virginia (AFP-WV) today announced its first-ever support for statehouse candidates. The grassroots group announced that, over the past several weeks, it has actively backed four policy champions in their primaries for the West Virginia House of Delegates and State Senate: Kase Poling, Terri Funk Sypolt, Trenton Barnhart, and Sue Cline.
AFP-WV is leveraging its grassroots and launching direct-mail and digital advertisements in support of the candidates.
AFP-WV State Director Jason Huffman released the following statement:
"Our activists across the state, combined with our principled approach and our unmatched capabilities, put us in a unique position to transform the political incentives lawmakers currently face away from politics as usual and toward a new approach—one that genuinely seeks common ground, unites when it makes sense, and respectfully disagrees when we cannot reach consensus.
"We're a policy organization, first and foremost. Our main priority is to unite people around solutions that will make West Virginia a better place to live, work, and raise a family. We continue to reject the kind of divisive tribalism we see all too often these days by continuing to build broad based coalitions that result in common sense solutions to our state's greatest challenges.
"Our engagement in the political process in West Virginia is new, but our goals remain the same—remove barriers so that every Mountaineer can reach their full potential. This end requires us to thoughtfully back candidates who will not only work to change the status quo, but will act as true policy leaders on the issues that matter most. From helping families thrive by helping them keep more of what they earn to cutting red tape in our health care system to increase access to quality, affordable health care, these principled leaders will continue to build and drive coalitions that ensure lasting policy change."
Delegate Terri Sypolt 
Del. Sypolt helped lead the charge to increase access to quality, affordable health care by supporting legislation to expand telehealth. Delegate Sypolt has shown support for expanding access to care and cutting red tape so West Virginians can access better health care at a lower cost.
Delegate Trenton Barnhart
Del. Barnhart supports policies that improve economic opportunity for every West Virginian. From empowering workers with more freedom to increasing transparency when it comes to your tax dollars, Del. Barnhart has demonstrated he will work to remove the barriers that are holding West Virginia workers and the economy back.
Senator Sue Cline
Senator Cline believes that every child deserves a shot at a bright future, regardless of their income or ZIP code. That is why she helped lead the charge to expand access to a quality, customized education. Cline is also a consistent champion for economic policies that increase opportunity for all West Virginia workers. And, Senator Cline fights to make government live within its means, demonstrating she prioritizes fiscal responsibility and doesn't just pay lip service to opposing reckless spending.
Kase Poling
Kase Poling, if elected, will champion policies to protect individual prosperity for all West Virginians, ensure fewer government barriers stand in the way of the American dream, and drive solutions to tackle our state's greatest challenges. These priorities contrast the district's current representation that has voted against educational freedom and opportunity and supported special interests instead of a fairer judiciary.  Poling's candidacy presents an opportunity to elect an advocate that will fight to put West Virginia back on a path to prosperity.
Background:
In June 2019, Americans for Prosperity CEO Emily Seidel released a memo announcing the organization's new approach to public policy and political engagement.