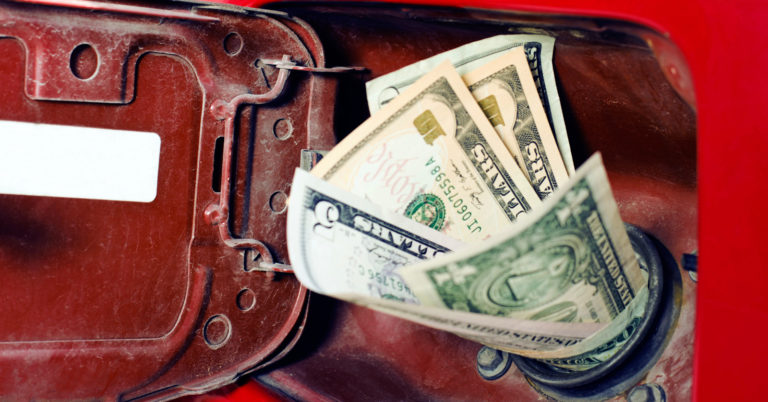 WTAS: "Pie in the sky" $2 trillion infrastructure "Hype" & "Toxic" federal gax tax
President Trump and congressional Democrats this week agreed to a $2 trillion infrastructure spending deal – including a potential doubling of the federal gas tax.
Americans for Prosperity quickly opposed the deal, with Chief Government Affairs Officer Brent Gardner saying:
"If Congress wants to find money to modernize our roads and bridges, we encourage them to look to their own pockets – Americans have been filling them up for years. Instead of proposing a $2 trillion catch-all 'infrastructure' bill and asking hard-working Americans to fund it by paying more at the pump, Washington lawmakers should cut the red tape and stop wasting the tax dollars we give them."
The reaction across the rest of Washington? Not so favorable, either. Take a look.
HEADLINES
POLITICO: "7 Reasons Not To Buy The [$2 Trillion] Infrastructure Hype…No One Knows Where The Money Will Come From…Neither Side Can Agree On Their Own Message…The Plan Is Already Too Big…" (Tanya Snyder, "7 Reasons Not To Buy The Infrastructure Hype," POLITICO, 4/30/19)
The Washington Post: "Trump And Democrats Apparently Have An Infrastructure Deal. Consider Us Skeptical." (Amber Phillips, "Trump And Democrats Apparently Have An Infrastructure Deal. Consider Us Skeptical.," The Washington Post, 4/30/19
POLITICO: "The Days-Old Infrastructure Agreement Is Already Showing Wear And Tear As Political Realities Set In." (Sam Mintz, "Reality Sets In As Infrastructure High Wears Off," POLITICO, 5/2/19) 
Bloomberg: "Democrats And Republicans Are Quick To Talk Up A Bipartisan Infrastructure Deal. Yet Neither Party Wants To Take The Political Risk Of Paying For It When All Options Are Toxic — Including The Obvious Choice Of Raising The National Gas Tax." (Laura Davison & Mark Niquette, "Gas Tax For Infrastructure Sparks Fears Of Political Backlash," Bloomberg, 5/1/19) 
The Fiscal Times: "The Gas Tax Is Politically Fraught" And "It Won't Raise Enough Money." (Michael Rainey, "How Will Trump Pay for Infrastructure? 3 Reasons It's So Hard to Raise the Gas Tax," The Fiscal Times, 5/1/19) 
Tax Policy Center Senior Fellow Howard Gleckman, Forbes: "The Infrastructure Goal Once Was $1 Trillion. Then It Was $1.5 Trillion. Now It Is $2 Trillion. But These Promises Are Evanescent. If You Are Not Really Going To Pass A Bill, You May As Well Not Pass A $2 Trillion Bill." (Howard Gleckman, Op-Ed, "Washington's Theater Of Infrastructure: The Trick Is To Get The Joke," Forbes, 5/1/19)
Former Senior Trump Infrastructure Adviser DJ Gribbin: "The Biggest Challenge Facing A National Infrastructure Plan Is Funding… A $2 Trillion Target Likely Dooms The Effort." (Rebecca Ballhaus & Natalie Andrews, "Democrats, Trump Agree To Aim For $2 Trillion Infrastructure Package," The Wall Street Journal, 4/30/19)
LAWMAKERS
Senator Shelley Moore Capito (R-WV) On The Possibility Of An Infrastructure Deal: "The Likelihood Of That Happening At $2 Trillion— Just On The Face Of What I Saw — Is Pie In The Sky." (Melania Zanona & Burgess Everett, "Trump's Deal With Democrats Leaves GOP Rolling Its Eyes," POLITICO, 5/2/19)
House Minority Leader Kevin Brady (R-CA) Said He Didn't Expect The Deal To Happen, While Senator Mitch McConnell (R-KY) Called Changing The Tax Code For The Infrastructure Plan A "Nonstarter." "No Republicans were invited to Tuesday's meeting, and House Minority Leader Kevin McCarthy (R., Calif.) told reporters after Democrats outlined their wishes for an infrastructure deal on Monday that he didn't expect a deal to happen. Senate Majority Leader Mitch McConnell (R., Ky.) said changing the tax code to pay for an infrastructure bill was a 'nonstarter.'" (Rebecca Ballhaus & Natalie Andrews, "Democrats, Trump Agree To Aim For $2 Trillion Infrastructure Package," The Wall Street Journal, 4/30/19)
Representative Sam Graves (R-MO) Called The Proposal "A Tremendous Amount," And When Asked If It Had Any Realistic Chance Of Passing He Said "No" While Waving Off The Idea With His Hand. "'It's a tremendous amount,' said Rep. Sam Graves (R-Mo.), the ranking member on the House Transportation and Infrastructure Committee. When pressed on whether a package that size would have a realistic chance of passing in Congress, Graves did not mince words: 'No,' he said, literally waving off the idea with his hand." (Melania Zanona & Burgess Everett, "Trump's Deal With Democrats Leaves GOP Rolling Its Eyes," POLITICO, 5/2/19)
Senator Pat Roberts (R-KY) On Doubts That A Deal Could Be Reached: "Everybody Is For An Infrastructure Bill … You Have The Usual Monetary Suspects, None Of Which Are Popular. So I Don't Know." (Tanya Snyder, "7 Reasons Not To Buy The Infrastructure Hype," POLITICO, 4/30/19)
Representative Mario Diaz-Balart (R-FL) Said Raising The Federal Gas Tax "Is Not The Way Forward," "Doesn't Solve The Problem," And "Is Highly Regressive." "'I don't think that is the way forward,' said Rep. Mario Diaz-Balart (Fla.), a top Republican voice on transportation issues. 'The Highway Trust Fund is deficient because of a change in technology. We have more efficient automobiles, electric automobiles, we have hybrids — that's not going to change… So doing a gas-tax increase doesn't, long-term, solve the problem and is highly regressive. It is the way out, but it's not acceptable.'" (Scott Wong, "Trump Ally In House Calls For Doubling Gas Tax To Pay For Infrastructure," The Hill, 5/1/19)
Senator John Thune (R-SD) Called The Plan A "Very, Very Big Number And A Big Tax Increase." "Senate Republican Whip John Thune of South Dakota called it 'a very, very big number and a big tax increase' and expressed skepticism that the talks between Trump and Democrats could 'yield any kind of proposal that we could actually take a look at.'" (Tanya Snyder, "7 Reasons Not To Buy The Infrastructure Hype," POLITICO, 4/30/19)
Senator Ron Wyden (D-OR): "Working People Who Have Got To Get To Their Job, Get Their Kid To A Medical Appointment, Shouldn't Get Hit Again When Multinationals Are Enjoying Their Big Tax Breaks And Causing Much Of The Wear And Tear To The Road." (Laura Davison & Mark Niquette, "Gas Tax For Infrastructure Sparks Fears Of Political Backlash," Bloomberg, 5/1/19)
Representative Earl Blumenauer (D-OR): "We Don't Have An Agreement… Until We Have A Mechanism To Actually Fund The Infrastructure, We Can't Do What They Talked About." (Lindsey Mcpherson, "Will Trump, Democrats' Agreement To Do A $2 Trillion Infrastructure Plan Hold?," Roll Call, 5/2/19)
Representative Ron Kind (D-WI): "It's More Like A Conceptualization Than An Agreement. We Still Have To Find Sustainable Revenue Sources, And That's The Hard Part." (Lindsey Mcpherson, "Will Trump, Democrats' Agreement To Do A $2 Trillion Infrastructure Plan Hold?," Roll Call, 5/2/19) 
Representative Mark Meadows (R-NC) On Possibilities Of Raising The Gas Tax To Pay For Infrastructure: "Being A Party That Reduced Taxes, I Don't Know That Increasing Taxes In An Election Year Would Have A Great Result, Other Than If You're Looking For Results Similar To George H.W. Bush." (Lindsey Mcpherson, "Will Trump, Democrats' Agreement To Do A $2 Trillion Infrastructure Plan Hold?," Roll Call, 5/2/19)