Please select your state
so that we can show you the most relevant content.

A Ballot Initiative to Expand Obamacare Is
Wrong for Nebraska Families
Obamacare's Medicaid Expansion plan is more likely to hurt Nebraska than help it.
A ballot initiative to expand Medicaid under Obamacare for able-bodied, working-age adults threatens Nebraskans with more taxes, cuts to essential government services and more big government that prioritizes this new Medicaid population over our state's most vulnerable citizens.
Under Obamacare's Medicaid expansion, the expansion population gets prioritized since they are reimbursed at a higher percentage than Medicaid's intended populations: our young, elderly, and disabled. Why should we expand this program and allow our most vulnerable to be pushed aside? Should we double down on a government program that takes power away from patients and their doctors?
There are better ways to give Nebraskans the health care they deserve at a cost we can all afford.
Paid for by Americans for Prosperity
Nebraska, 13216 Cottner St, Omaha, NE 68137
DID YOU KNOW MEDICAID EXPANSION UNDER OBAMACARE PUTS UTAHNS AT RISK?
THE PLAN
Lawmakers accept funding from Obamacare to expand Medicaid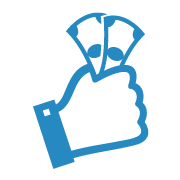 The federal government temporarily pays for the new program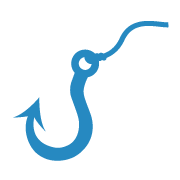 Federal funding scales down after two years, leaving Nebraska health care providers on the hook for millions in new spending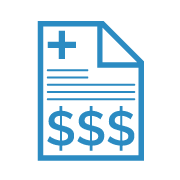 Which means Nebraskans will face increased taxes or be forced to make spending cuts to essential government services
THE COSTS

Nebraska patients, doctors and health care providers would pay up to $591 million in the first 10 years alone!1
Expanding Medicaid is not what our state needs.
THE RISKS
Every state that has expanded Medicaid has exceeded enrollment estimations.2 Consequently, taxpayers are forced to foot the bill to cover the new able-bodied, working-age adult population. This can lead to:

Cuts to schools

Cutbacks for roads Tax increases Increased healthcare costs
DON'T TAKE OUR WORD FOR IT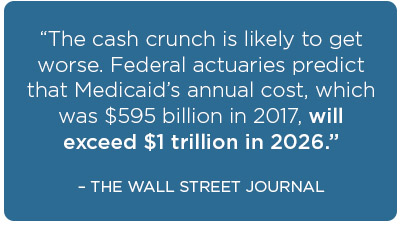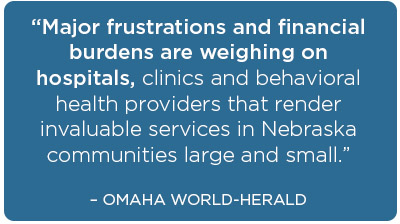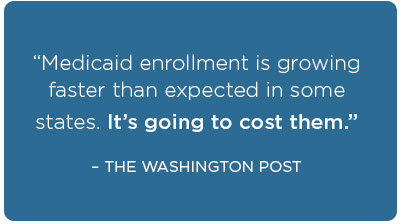 © 2023 AMERICANS FOR PROSPERITY. ALL RIGHTS RESERVED. | PRIVACY POLICY