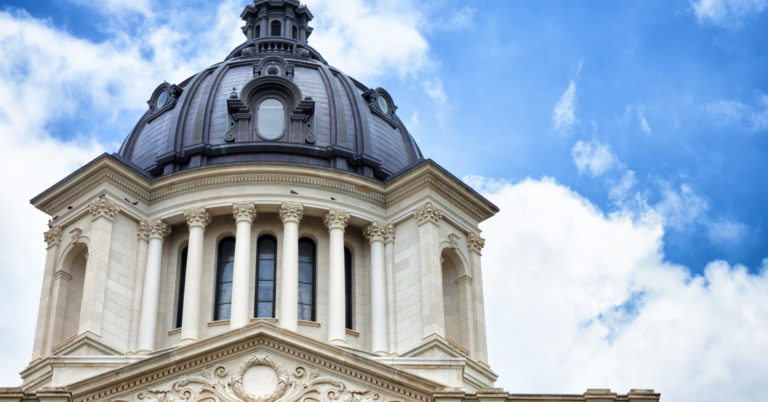 What's happening in Pierre?
Business has been chugging along in Pierre, and we have been hard at work on issues that are important to you, our fellow free market, limited government patriot. As the legislative session reaches the halfway mark, I wanted to give you a quick update on what's going on in our capital, what it means for you, and how you can help or get involved.
PROTECTING FREE SPEECH
Free speech is the most fundamental of rights granted to us in our Constitution. Yet it is under attack on a number of fronts. We are watching a couple of bills regarding free speech, but the most prevalent is the issue of free speech on our college campuses.
Campuses – the very place where a diverse array of thoughts and opinions should be explored – across the country, including here in South Dakota, have been working to stifle this freedom. We are supporting a bill that is now teed up in the Senate to protect free speech on our campuses and ensure the policies on our campuses do not violate the constitution.
CLICK HERE TO TELL YOUR LEGISLATOR TO SUPPORT FREE SPEECH!
Additionally, we are opposing another bill which we view as an unconstitutional threat to free speech. We believe that free speech applies to everyone, everywhere in America, but HB 1216, a bill to limit out-of-state contributions on ballot initiatives, would effectively muzzle groups as they try to support their causes. Though we may not agree with certain causes or groups, we shouldn't silence them out of a debate on the issues. Bad policies will be rooted out and good policies will prevail, but the First Amendment allows everyone a voice.
RAISE YOUR GLASS!
Government at any level should work to promote the prosperity of its people. Microbreweries, a booming industry across the country, however, have been operating under a set of post-prohibition-era regulations that stifle their ability to grow.
A bill to reduce the current barriers our state's microbrewers and their employees face as they work to grow and serve their customers recently passed out of committee in the Senate.
This legislation will open the market and bring South Dakota more in line with our neighboring states' brewing laws
CLICK HERE TO TELL YOUR SENATOR TO SUPPORT SB 169 AND OUR SMALL BUSINESSES!
TAX HIKES AND TAX RELIEF
We know keeping taxes low, putting more money in your pocket, provides opportunities for hard-working South Dakotans. Many of you have started seeing this effect in your paychecks following tax reform at the federal level.
Lawmakers are debating a series of tax hikes that we are watching very closely and working to stop. One such bill would have raised the tax on cigarettes by 65 percent! I am happy to report we killed that bill in committee. Stay tuned for more as we continue working to stop these bills.
In better news, there is also a bill to rein in spending in Pierre. This bill would amend our state Constitution to limit government spending from the general fund, making sure our lawmakers are prudent and careful with your tax dollars.
When government gets out of the way and leaves the people to run their own lives, everyone benefits. We will never tire of working toward limited government, less taxes, and free market policies.
OCCUPATIONAL LICENSING
Relatedly, we worked to make sure a bill that would make it easier for some to pursue the occupation of their choosing made its way to the governor's desk.
This bill decreases the training requirements to be a licensed cosmetologist from 2,100 hours (the HIGHEST in the nation) to a more reasonable 1,500 hours, has passed both chambers and is awaiting the governor's signature.
In his State of the State address, the governor also announced his plans for an inter-state compact in which licenses in one compact state would be granted a temporary license in another compact state. We commend the governor for looking at ways to reform flaws in licensing, and we think this is a step in the right direction. However, we also think this bill doesn't go far enough to reduce the licensing burdens in our state and provides no incentive to reduce those burdens in the future. We will be urging lawmakers to create a task force or study committee to review all our licensing regulations and suggesting ways forward to reduce or eliminate those burdens.
Stay tuned for information on how you can help in this effort!
GET INVOLVED!
In addition to taking actions using the links above, we are always looking to utilize passionate activists like you for a number of efforts to promote limited government and free-market policies.
We have a National Day of Action event in Sioux Falls coming up this month! Join us to CHEAT WINTER! Wear your beach garb and join us for fun day of freedom calls, summer games, FREE barbeque from the Backyard Grill, liberty cakes from Oh My Cupcakes, and an ice cream sundae bar. All volunteers will also receive a free Americans for Prosperity t-shirt! We hope to see you there!
CLICK HERE FOR MORE INFORMATION AND TO REGISTER!
If you are in the Rapid City area, we have a National Day of Action event planned for you as well! Please join us for a special volunteer day at the AFP office in Rapid City (free lunch and t-shirt included as well!) as we join thousands of volunteers across the nation in our fight for economic freedom!
CLICK HERE FOR MORE INFORMATION AND TO REGISTER!