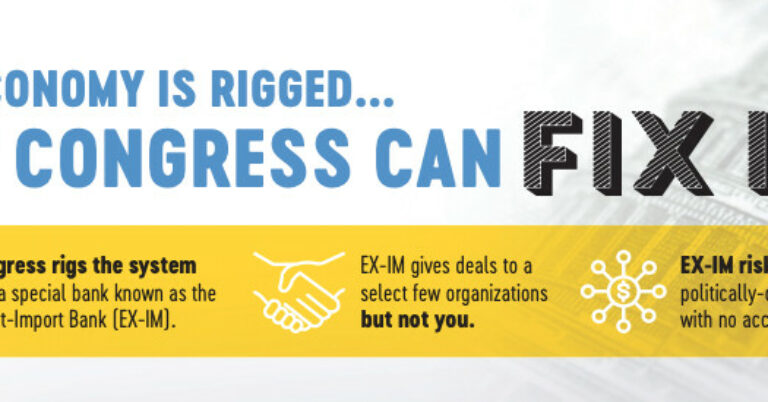 "Unrig the Economy" Campaign Aims to End Government Favoritism
Grassroots organization launching federal and state campaign to level the playing field for all Americans
Arlington, Va. – As Washington moves to reinstate some of the most egregious examples of government favoritism and corporate welfare by restoring the Export-Import Bank quorum and entertaining the renewal of zombie tax extenders, Americans for Prosperity (AFP) today announced the launch of a comprehensive, integrated campaign to create a stronger economy by leveling the playing field for all.  Called "Unrig the Economy," this multi-year, multimillion-dollar effort will harness the power of AFP's grassroots activists to drive change at both the state and federal levels.
 
Today, AFP launched the initial phase of "Unrig the Economy" with a multiyear, multimillion-dollar campaign. A robust direct mail and digital effort to stop the Export-Import Bank's reauthorization will target members of the House Financial Services and Senate Banking Committees.  Additional targets include stopping the renewal of so-called "tax extenders" under consideration by the House Ways & Means and Senate Finance Committees.

View an example of the tax extender mail here
View an example of the Export-Import Bank mail here
 
According to a recent Washington Post/ABC News poll, 62% of Americans say the U.S. economic system mainly benefits those in power versus only 34% who feel it mainly benefits all people.  Belief that the economy is rigged is a longtime, widespread perception.
 
AFP President Tim Phillips released the following statement:
"Government should pursue policies that create a level playing field where everyone is bound by the same set of rules. Instead, politicians too often rig the game by picking winners and losers through subsidies, tax carve outs, regulatory barriers, or protectionist policies.
 
"While AFP has been effective at fighting corporate welfare in the past, we've never waged a national campaign at this magnitude and with this focus.  'Unrig the Economy' will work across the country to stop government favoritism that tilts the playing field to the benefit of the powerful and well-connected.  We believe there are principled lawmakers across the country willing to live up to their roles as servants of the people, not the special interests. We will work with anyone to unrig the economy, so all Americans have a better chance to realize their potential."

Americans for Prosperity has a long track record of successfully opposing corporate welfare and government favoritism – from film subsidies to stadium subsidies to certificate of need laws to tax giveaways, and more.  AFP is now unleashing its full capabilities to stop the culture of cronyism – from city halls to the halls of Congress.
The campaign will extend out into the states. For example, in Pennsylvania, the campaign features a significant six-figure effort in support of an important, bipartisan red tape reduction effort.  Pennsylvania has an opportunity to get smarter on regulation to allow entrepreneurs a greater chance at fulfilling their potential. This effort will include a significant direct mail and digital effort as well as boots on the ground.
 
AFP's "tax extenders" campaign will target members of the House Ways and Means Committee and the Senate Finance Committee:
 
Richard Neal (D-MA), John Lewis (D-GA), Lloyd Doggett (D-TX), Ron Kind (D-WI), Bill Pascrell (D-NJ), Danny Davis (D-IL), Terri Sewell (D-AL), Gwen Moore (D-WI), Dan Kildee (D-MI), Brendan Boyle (D-PA), Dwight Evans (D-PA), Stephanie Murphy (D-FL), Steven Horsford (D-NV), Kevin Brady (R-TX), Adrian Smith (R-NE), Kenny Marchant (R-TX), Mike Kelly (R-PA), George Holding (R-NC), Jason Smith (R-MO), Darin LaHood (R-IL), Brad Wenstrup (R-OH), Jodey Arrington (R-TX), Drew Ferguson (R-GA), Ron Estes (R-KS), Mike Crapo (ID), Chuck Grassley (IA), John Cornyn (TX), John Thune (SD), Richard Burr (NC), Johnny Isakson (GA), Pat Roberts (KS), Tim Scott (SC), Bill Cassidy (LA), Debbie Stabenow (MI), Bob Menendez (NJ), Sherrod Brown (OH), Michael Bennet (CO), Bob Casey (PA), Mark Warner (VA), Maggie Hassan (NH), Catherine Cortez Masto (NV).
 
AFP's "EX-IM" campaign will target members of the House Financial Services Committee and Senate Banking Committee. 
 
Maxine Waters (CA), Gregory Meeks (NY), Ed Perlmutter (CO), Rashida Tlaib (MI), Katie Porter (CA), Cindy Axne (IA), Sean Casten (IL), Ben McAdams (UT), Alexandria Ocasio-Cortez (NY), Jennifer Wexton (VA), Patrick McHenry (NC), Peter King (NY), Sean Duffy (WI), Steve Stivers (OH), Lee Zeldin (NY), Denver Riggleman (VA), Andy Barr (KY), Scott Tipton (CO), Tina Smith (MN), Jon Tester (MT), Mark Warner (VA), Elizabeth Warren (MA), Catherine Cortez-Masto (NV), Doug Jones (AL), Kyrsten Sinema (AZ), Martha McSally (AZ), Jerry Moran (KS), Kevin Cramer (ND), Thom Tillis (NC), Tim Scott (SC), Mike Rounds (SD), Tom Cotton (AR).
###