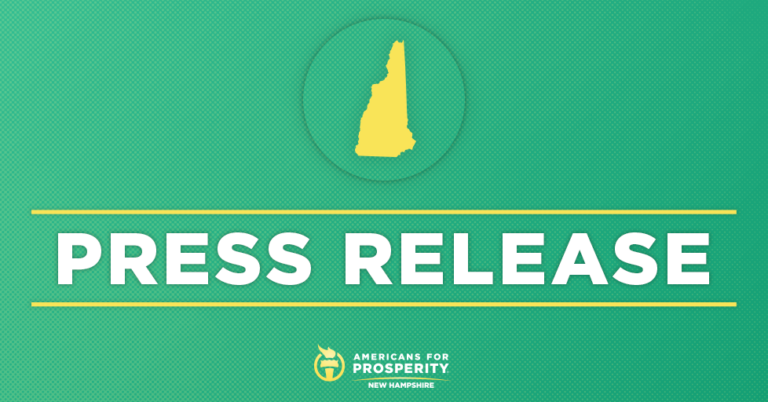 Unemployment Data Shows Tax Relief is Working
Grassroots group urges representatives to oppose tax hikes on small businesses and residents, continue economic growth
MANCHESTER, NH – Following today's release of another good employment report showing that the number of New Hampshire's unemployed decreased by 70 from the previous the month and by nearly 2,000 from January 2018, Americans for Prosperity-New Hampshire (AFP-NH) today urged House representatives to reject House Bill 686 and House Bill 623, both of which would jeopardize New Hampshire's booming economy by increasing taxes on employers and individuals. The grassroots group sent lawmakers letters asking them to oppose both bills and launched a digital campaign using a digital tool that connects Granite Staters with their lawmakers.
HB 686 would create a state-level capital gains tax of 5%.  HB 623 would raise the Business Profit Tax (BPT) from its current 7.7% to 7.9% and would increase the Business Enterprise Tax (BET) by 12.5%, from 0.6% to 0.675%. Both would discourage investment in our state and by our residents.
"Today's unemployment data once again set records for the number of Granite Staters working and those in the workforce. It is further, clear evidence that tax relief for employers is growing our economy at a healthy rate. Yet, the House is trying to kill the goose that laid the golden egg by undermining the very efforts that are leading to this success. Raising taxes on small businesses, employers, and residents is not the way to continue our state's economic boom. Why would we want to put our state's economy at risk with such a reckless policy?" said Greg Moore, AFP-NH State Director.
"A 12.5% tax hike on small businesses and individuals who want to invest and do business in New Hampshire is the wrong approach. We should be making it easier, not harder, for employers to succeed," Moore continued. "Our legislators should oppose these bills and ensure we don't roll back the economic progress our state has made."
Background:
AFP-NH has been the state's leading grassroots advocate for business tax relief. Starting in 2014, AFP-NH's sister organization, Americans for Prosperity Foundation, issued a study that raised the issue of New Hampshire's high business taxes. In 2015, the chapter led efforts to override Governor Hassan's veto of tax cuts.
The federal Bureau of Economic Analysis shows that New Hampshire with the fastest GDP growth in the Northeast.
Businesses tax cuts have led to more jobs and resulted in the state receiving record-high revenues.
Read Greg Moore and Bruce Berke's op-ed here on tax relief boosting the state's economy and adding jobs.