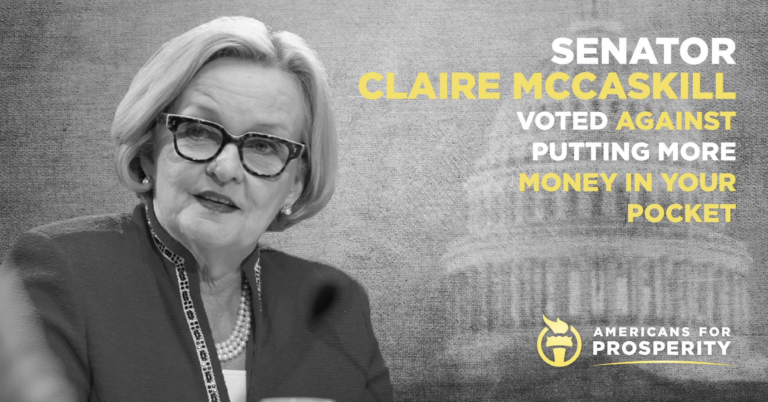 Sen. McCaskill Ignores Missourians, Courts Hollywood Heavyweights
JEFFERSON CITY, Mo. – Americans for Prosperity-Missouri (AFP-MO) released the following statement after Politico's David Siders reported Sen. McCaskill will be the beneficiary at the May 6 Beverly Hills fundraiser hosted by the actress Katie McGrath, film studio executive Jeffrey Katzenberg, filmmaker Steven Spielberg and other Los Angeles-area heavyweights. Sen. McCaskill has a history of supporting tax breaks for the film industry, most recently with her vote in favor of the Budget Act of 2018, which included an extension of tax breaks for Hollywood filmmakers. In contrast, Sen. McCaskill voted against the tax reform bill that is increasing take-home pay, generating hefty bonuses for workers, and even lowering utility bills for Missourians.
AFP has a long track record of opposing tax breaks for any special interests, including Hollywood.
"When given the chance to provide tax relief to hard-working Missourians and small business, she resoundingly voted 'No,' claiming there were too many 'goodies' in the bill," said AFP-MO State Director Jeremy Cady. "However, when given the opportunity to vote for a massive spending bill riddled with special interest goodies for Hollywood, race horse owners, Caribbean rum distillers, 'green' energy companies, and others, she voted for it."
"We don't need to return to the old tax system that was rigged in favor of the special interests in Hollywood and elsewhere. Sen. McCaskill should focus on protecting the new tax law from attacks by those seeking to undermine it."
Background
After Voting Against Tax Reform In December, McCaskill Voted To Extend Tax Benefits For Hollywood Productions
In February, McCaskill Voted In Favor Of The Bipartisan Budget Act Of 2018. (H.R. 1892, Roll Call Vote #31: Passed 71-28: R 34-16; D 36-11; I 1-1, 2/9/18, McCaskill Voted Yea)
Bloomberg: "Special Expensing Rules For The First $15 Million In Costs For Certain Film, Television And Theatrical Productions Will Also Be Reinstated For 2017." "Tucked inside the bipartisan budget deal that looks poised to pass the Senate Thursday are a slew of tax breaks for NASCAR, Hollywood, racehorses and rum. And beer, too. … Special expensing rules for the first $15 million in costs for certain film, television and theatrical productions will also be reinstated for 2017." (Sahil Kapur, "Tax Benefits For Racehorses, Rum Added To Bipartisan Budget Deal," Bloomberg, 2/8/18)
McCaskill Has Repeatedly Voted In Favor Of Special Tax Benefits For Hollywood Productions
In 2010, McCaskill Voted In Favor Of The Tax Relief, Unemployment Insurance Reauthorization, And Job Creation Act Of 2010. (H.R. 4853, Roll Call Vote #276: Passed 81-19: R 37-5; D 43-13; I 1-1, 12/15/10, McCaskill Voted Yea)
In 2012, McCaskill Voted In Favor Of The American Taxpayer Relief Act Of 2012. (H.R. 8, Roll Call Vote #251: Passed 89-8: R 40-5; D 47-3; I 2-0, 1/1/13, McCaskill Voted Yea)
In 2014, McCaskill Voted In Favor Of The Tax Increase Prevention Act Of 2014. (H.R. 5771, Roll Call Vote #364: Bill Passed 76-16: R 31-8; D 44-8; I 1-0, 12/16/14, McCaskill Voted Yea)