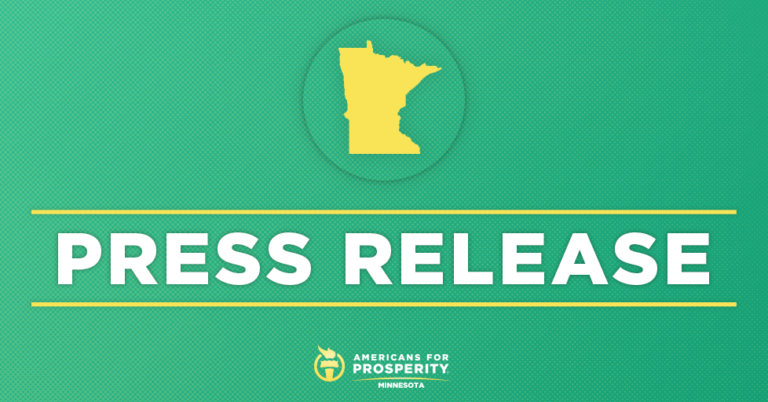 Opioid Tax Punishes Patients with Higher Costs
ST. PAUL, MN – Americans for Prosperity-Minnesota (AFP-MN) today urged members of the House Health and Human Services Policy Committee to oppose HF400, a bill that would impose additional prescription drug distribution fees onto patients already struggling with increased health care costs. AFP-MN sent the members of the Health and Human Services Reform committee a key vote letter calling on members to vote "No" on HF400.
AFP-MN shares the belief the opioid crisis requires thoughtful, long-term attention. A tax hike specifically targeting sick people to discourage them from pain management is not a thoughtful plan.
"At a time when Minnesota is projected to already over collect $1.5 billion in tax revenues above budget, lawmakers shouldn't be considering new taxes – on anything. Yet we've already seen proposals to increase government-imposed costs on transportation, health care, and prescription drugs, along with higher payroll taxes on both employees and their employers," said Jason Flohrs, AFP-MN State Director.
"The opioid crisis is something all our key institutions in society need to work together to address and help provide solutions for," Flohrs continued. "Yet, punishing Minnesota patients by making them pay more for the care and medication they need is not the answer. Legislators should oppose this bill and work to decrease health care costs, not increase them."
Background:
AFP-MN has been at the forefront of opposing placing additional fees on Minnesota patients that already face high health care costs.
AFP-MN Thanks House Committee for Tabling Opioid Tax Increase (3/2/18)
AFP-MN to Legislature: Reject Opioid Fee Increase and Protect Minnesotans from Rising Health Care Costs (5/10/18)