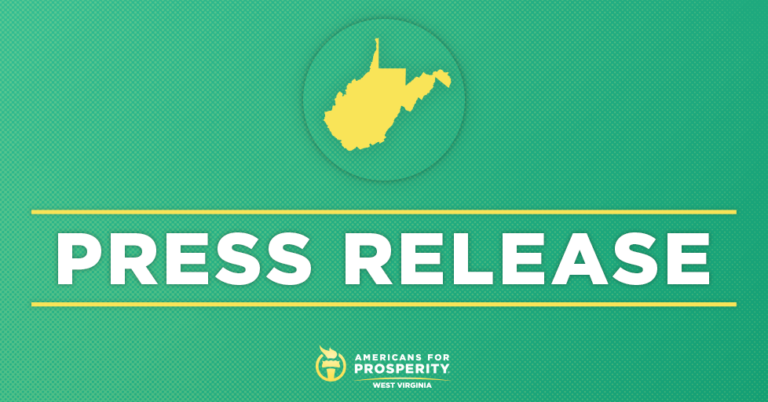 Next Step Governor Justice Should Take: Suspend CON Laws
CHARLESTON, WV – Americans for Prosperity-West Virginia (AFP-WV) today urged Governor Justice to suspend Certificate of Need (CON) laws and help increase access to health care equipment and services for West Virginians.
The grassroots group will soon be releasing digital ads that will connect West Virginians with the governor's office, encouraging him to utilize his emergency powers to, by executive order, suspend all CON processes during this public health crisis in order to help address potential health care shortages.
Americans for Prosperity-West Virginia State Director Jason Huffman issued the following statement:
"Governor Justice has taken crucial and decisive steps to temporarily waive red tape preventing West Virginians from accessing health care services we need during this public health crisis. Governor Justice can go even further in meeting the health needs of West Virginians by suspending our state's burdensome certificate of need laws.
"These laws needlessly cap our health care system, putting protectionism for special interests over the health care needs of West Virginians. We're asking folks to come together to encourage Governor Justice to take the next step toward ensuring our most vulnerable populations have the health care access they need by suspending our CON laws during this public health emergency."
Background:
Radio interview with Eastern Panhandle Talk with Rob and Dave discussing COVID-19 response and CON (1:30:00-1:44:00)
Letter to Gov. Justice Urging Halting Certificate of Need Indefinitely: "…[C]ertificate of need (CON) holds health care professionals back from providing new or expanded medical services in West Virginia. CON puts an arbitrary cap on where and how services can be added by forcing providers to first get a permission slip from the government before they may add a new service.
This might strike residents as a strange standard for a state in which 53 of its 55 counties suffer health care shortages. But it is, nonetheless, the standard West Virginia employs. CON is needless and backwards, even in ideal circumstances. Indeed, the Mercatus Center found that the quality, affordability, and accessibility of health care in West Virginia would be improved if the state were to repeal its CON law.
Just recently, the North Carolina Department of Health and Human Services lifted a CON law that requires hospitals to get state permission for more hospital beds. As our country faces a pandemic, halting our CON process will temporarily help end top-down mandates that impede efforts to increase health care access for every West Virginian.
Our state requires a CON for health care services that want to add acute hospital beds, ambulatory surgery centers, home health agencies, and CT scanners. Halting these requirements will immediately remove a barrier on providers that can greatly expand health care services to directly address the crisis."
AFP believes the governor can and should suspend CON under his emergency powers.—specifically, under §15-5-6. Emergency powers of Governor. The governor's powers are pretty clear in this statute:
15-5-6 (c)(7) To suspend the provisions of any regulatory statute prescribing the procedures for conduct of state business or the orders, rules of any state agency, if strict compliance therewith would in any way prevent, hinder or delay necessary action in coping with the emergency; (emphasis added).
Since 1977, West Virginia's Certificate of Need (CON) law has required health care providers to prove to a government board, the WV Health Care Authority, that building new facilities or expanding existing facilities must meet their community's health care needs.[i] Unfortunately, health care providers routinely exploit West Virginia's CON law to block and delay new health care providers from opening nearby and serving patients.
[i] WV Code § 16-2D-2