Please select your state
so that we can show you the most relevant content.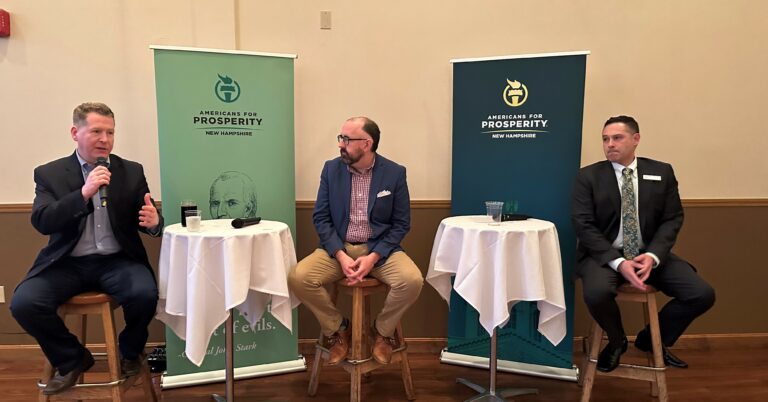 NH Journal: New Hampshire takes the lead on anti-ESG efforts
Earlier this month, Americans for Prosperity-New Hampshire hosted a discussion on ESG (Environmental, Social, and Governance) investments, our second of an ongoing Pints & Policy series behind held around the state.
Richard Morrison from the Competitive Enterprise Institute and Attorney Mark Dell'Orfano from the Department of Justice joined us to talk about a new rule issued by President Joe Biden's administration that allows investment managers to take ESG scores into account for their risk profile.
The rule has the potential to put billions of investment returns at risk all to divert funds to President Biden's liberal buddies.
From the NH Journal:
The event, hosted by Americans For Prosperity New Hampshire, was held just days after President Joe Biden vetoed a bipartisan resolution that would have stopped the Labor Department's revision to Employee Retirement Income Security Act (ERISA) rules. One speaker, Richard Morrison, a senior fellow at the Competitive Enterprise Institute, has written extensively on ESG investing.

…

New Hampshire House Republicans who attended the event said they are looking for ways the state can take legislative action to lessen the impact of the new ESG factors. Sununu has suggested the state might use its pension as part of an effort to push back against the policy." Read the rest at NHJournal.com.
Be sure to follow us on Facebook and Twitter to stay up to date on our upcoming Pints & Policy events!
© 2023 AMERICANS FOR PROSPERITY. ALL RIGHTS RESERVED. | PRIVACY POLICY