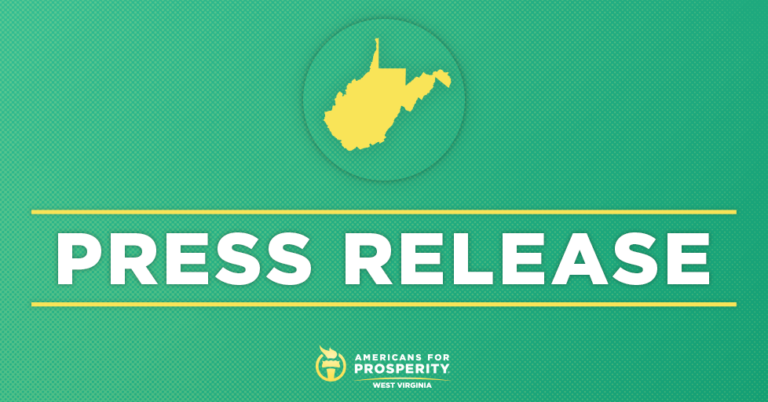 More Spending and Higher Taxes in the Face of Recession. What Could Go Wrong?
In new ad campaign, Americans for Prosperity urges West Virginia's lawmakers in Washington to think long and hard before agreeing to salvage 'Build Back Better'
CHARLESTON, WV – As news reports indicate Democrats in the Senate are moving closer to a deal on a reconciliation package, Americans for Prosperity-West Virginia (AFP-WV) is announcing the launch of targeted digital ads and our signature grassroots engagement to connect voters to the true cost of continuing the same reckless tax and spend policies that drive inflation, undermine the economy, and make life more expensive for millions of Americans.
The ads will be part of AFP's True Cost of Washington campaign, a sustained 8-figure effort highlighting the direct harm of wasteful spending and punishing regulatory policies, while advocating alternative policies that would unleash American energy abundance, spark innovation, and empower Americans with more freedom and opportunity to succeed. In addition to West Virginia, the ads will target Arizona, Georgia, Nevada, and New Hampshire.
AFP-WV State Director Jason Huffman released the following statement:
"The latest inflation numbers show costs are increasing at a rate not seen in more than four decades. And you can bet West Virginians feel the consequences of D.C.'s poor decisions every time they go to fill up their cars or put food on their family's table. It's just common sense—the absolute last thing the economy needs is more government spending pumped into it from Washington. That's why we're connecting with folks all across the Mountain State to urge our lawmakers in Washington to stand up for our shared West Virginia values by rejecting President Biden's failed 'Build Back Better' agenda."
AFP's True Cost of Washington Tour has been crisscrossing the country partnering with gas stations to offset the cost of gasoline and bring it back to what it was the day before President Biden took office. The dozens of events have provided meaningful relief for consumers, while drawing attention to the misguided policies that continue to drive costs higher.
To learn more about the campaign and see the next tour stops, visit TrueCostofWashington.com. To read about a better approach that clears government burdens to help expand opportunity for all Americans, visit AFP's legislative roadmap: Empowering People, Emerging Stronger.