Please select your state
so that we can show you the most relevant content.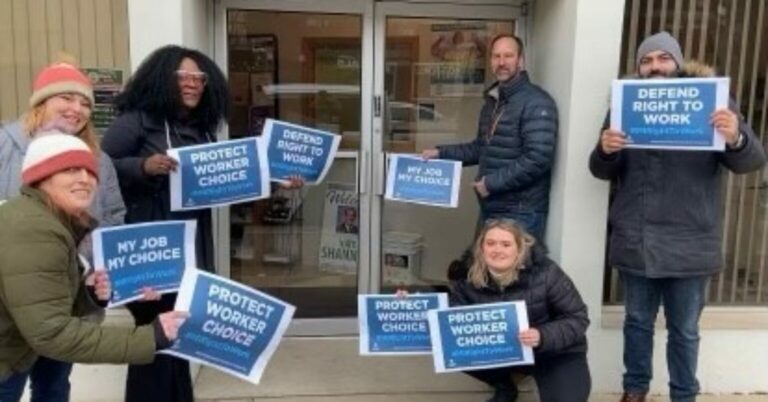 ICYMI: AFP-MI Coordinates Pop-Up Protest of Right-to-Work Repeal
Detroit, Michigan—Protestors affiliated with Americans for Prosperity Michigan (AFP-MI) braved the frigid weather on Friday outside State Rep. Nate Shannon's scheduled coffee hour outside a union hall in Utica.
Holding signs reading "My Job, My Choice" and "Protect Worker Choice," protestors voiced their opposition to legislation sponsored by Rep. Shannon that would repeal Michigan's Right to Work law.
Passed in 2012, Michigan's Right to Work law protects private-sector workers' right to decide whether or not to join a union. The landmark Supreme Court case Janus v. AFSCME enshrined public sector workers' right to choose or eschew union representation in 2018.
"Right to Work has improved Michigan's economy and granted workers greater freedom and flexibility to work. It's outrageous that lawmakers in Lansing want to take this freedom away from hard-working Michiganders," said Katlin Viar, a grassroots organizer for AFP-MI.
The half-dozen or so protesters nearly outnumbered attendance at Rep. Shannon's coffee hour, which took place at the United Auto Workers Local 2280. "Lawmakers should be prepared to hear more from constituents opposed to repealing Right to Work," said AFP-MI State Director Annie Patnaude. "This law has been in place for over a decade—it's telling that Democrats in Lansing have rushed to repeal it, even though most businesses in the state agree that it's settled law."
In January, AFP-MI kicked off a six-figure mail and digital campaign targeting vulnerable lawmakers, encouraging them to protect Michiganders' right to work.
© 2023 AMERICANS FOR PROSPERITY. ALL RIGHTS RESERVED. | PRIVACY POLICY