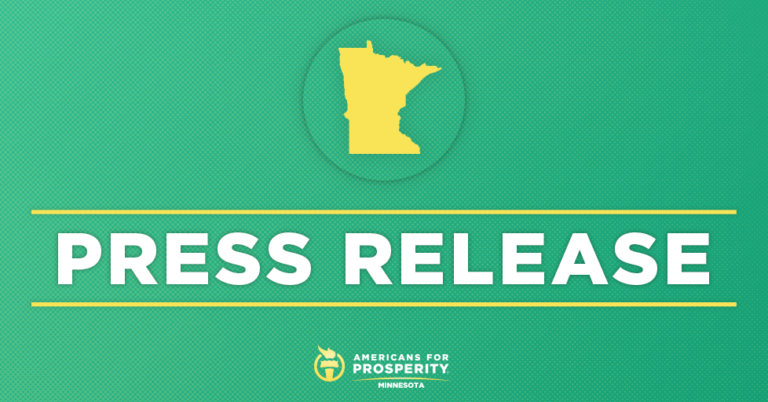 Lawmakers Need to Seek Cost-Savings, Like Minnesotan Families are Forced to Do
ST. PAUL, MN – Americans for Prosperity-Minnesota (AFP-MN) today called on the Minnesota Legislature, the Walz administration, and public employees to come together to renegotiate public sector pay increases in light of projected budget deficits caused by the COVID-19 epidemic and the ensuing government shutdown.
The state is currently facing a $2.4 billion budget deficit – a projection that likely worsens each day that Minnesota's economy remains partially shut down. As unemployment reaches levels not seen since the Great Depression, and workers in the private sector experience severe economic disruption, Americans for Prosperity believes our government should seek cost savings to help mitigate the economic damage the state is feeling.
AFP-MN State Director Jason Flohrs issued the following statement:
"Our state workforce needs to step up and be part of the solution in getting the state back on firm financial footing. Lawmakers should prioritize fiscal responsibility and help our state stay solvent during this crisis. Government employees provide valuable services, but these contracts and pay increases were negotiated when we weren't dealing with a public health and economic crisis.  
"When figuring out how to climb out of a hole, the first thing you have to do is stop digging. As our Roadmap to Recovery pointed out, instead of continuing to add millions in new spending and debt service – and with no budget targets in place – lawmakers should begin identifying spending increases not yet implemented, revisiting future commitments in light of new economic realities, and refocusing funding on core functions and services of government. Every day that goes by is a missed opportunity to conserve the resources we have for the most important priorities."
Background:
This renegotiation of public employees' contracts during economic downturns has had bipartisan support over the years. In November 2010, President Obama announced a freeze in civilian pay (that negated already scheduled statutory increases) as part of his response to the continued fallout from the financial crisis. President Obama said this about the "unsustainable fiscal course" of the nation and the "very tough choices" that lay ahead:
"Just as families and businesses around the nation have tightened their belts so must their government. This freeze is not to punish federal workers or to disrespect the work that they do. It is the first of many actions we will take in the upcoming budget to put our nation on sound fiscal footing – which will ask for some sacrifice from us all."
Even Governor Walz in earlier executive orders recognized the need for flexibility and made changes to collective bargaining agreements in response to the crisis.
AFP-MN is currently running digital ads directing Minnesotans to a digital tool that enables them to tell their lawmakers to oppose state bailouts and another digital tool urging Minnesotans to tell lawmakers to safely restart the economy and help get Minnesotans back to work.