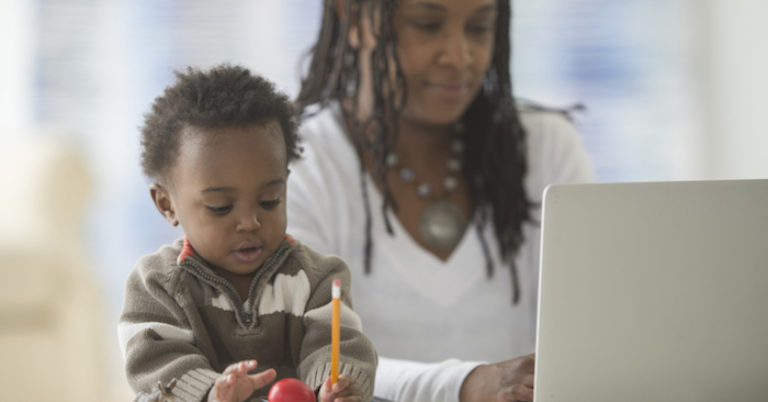 How California's Assembly Bill 5 is hurting one woman's career
The U.S. workforce has changed dramatically over the last several decades. Workers from all backgrounds are increasingly choosing the flexibility and freedom of independent contracting over traditional office jobs, especially women. But a new California law is stripping this freedom away from many.  
Jennifer Oliver O'Connell's story
Jennifer Oliver O'Connell is a California-based screenwriter, reinvention coach, and yoga instructor. For years, she has enjoyed the flexibility independent contracting has provided. Instead of focusing on only one of her many talents, freelancing has allowed her to combine her diverse skills into a career of which she is extremely proud.
As a reinvention coach, Oliver O'Connell has helped pregnant woman living on the streets find jobs and housing. As a yoga instructor, she not only teaches classes, she also trains yoga instructors.
Oliver O'Connell is just one of many female contractors, or, as she prefers "independent professionals," whose incomes have been slashed by the passage of California's Assembly Bill 5.  
AB 5 is legislation that changed the criteria for what constitutes an "independent contractor." Now, those wishing to continue freelance work must meet onerous qualifiers, as defined by what is known as the "Dynamex Test."
The new law reclassified many independent contractors as traditional employees, forcing them to forgo the benefits of setting their own hours and working for a variety of different clients. Many have now been pushed to either take traditional office jobs where they forego their flexibility and independence or lose their jobs entirely and the income on which they depend.  
For writers like Oliver O'Connell, AB 5 originally limited the number of submissions they could publish before they would lose their freelancer status. The bill mandated that any writer submitting more than 35 articles a year to one publication must be classified as an employee. For Oliver O'Connell, who says she sometimes submits more than 35 articles a week to just one of her clients, this statute could have been disastrous. 
Luckily, as she explained during an Independent Women's Forum webinar on women and independent contracting, many writers were displeased by this aspect of the law. Because they had a platform to vocalize their concerns, the state ultimately exempted writers from this burdensome mandate. Good policies should not require so many exemptions that still leave many others behind, but that should tell you a lot about AB 5.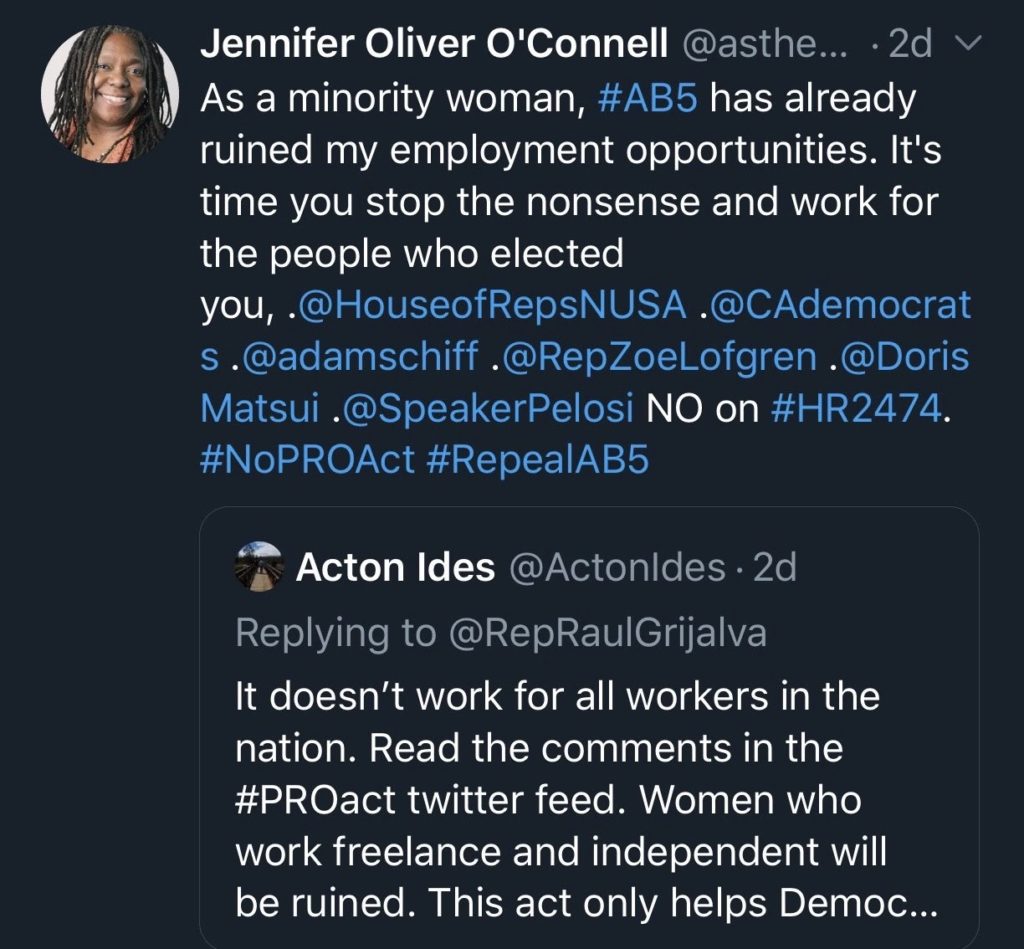 But that doesn't mean Oliver O'Connell hasn't been devastated by the bill in other ways. 
An unnecessary burden to independent professionals
Oliver O'Connell helps certify not only yoga instructors, but also yoga studios across California. When the new law went into effect, she immediately lost $4,000 because AB 5 changed the relationship between her and her clients. 
As Oliver O'Connell explained, many contractors don't rely on employment contracts like traditional jobs do. Instead, they often utilize other collaborative tools, which ensure that everyone lives up to their end of the bargain. 
Now forced to treat the relationship as employee-employer, many yoga instructors and studios simply aren't using her services anymore because they can't afford it.
COVID-19 has already presented unexpected financial burdens on many people across the country. There is never an ideal time to lose a large chunk of your income, but as the country struggles to get back on its feet after the pandemic-related economic shutdowns, now is especially not the time to rob individuals of their earnings. 
AB 5 has also scared businesses from wanting to use contractors at all because of the stiff penalties that can occur if they are found in violation. 
If the state finds that a contractor does not meet the criteria listed in the Dynamex Test, the employer is fined a minimum of $5,000 per incident and up to $25,000. As Oliver O'Connell explained, a small nonprofit would be crushed by the weight of this burden.
A missed opportunity
This attack on independent contractors is an issue that disproportionately affects women who prefer the flexibility of freelancing to the confines of a typical office job. Contracting gives many women the opportunity to build meaningful careers while also being able to raise children or care for aging or ill family members. 
Instead of adapting to this new landscape, labor unions are leading the charge against contractors, serving as an integral force jeopardizing the livelihood of independent professionals, many of whom are women. 
Oliver O'Connell's story is just one of many. If we are not vigilant in protecting independent contractors, the rest of the country might follow California's lead. In fact, other states are already considering similar legislation. 
We need to give individuals every opportunity to succeed. This means allowing them to pursue meaningful work, whether that be in a traditional nine-to-five job or a contracting career like Oliver O'Connell's. 
Watch Jennifer Oliver O'Connell share her story with IWF below. Learn more about independent contracting and efforts to block Americans from pursuing this type of work.