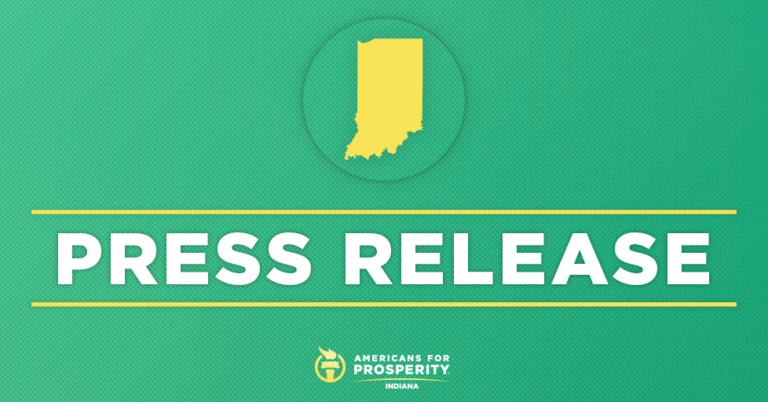 Hoosier Lawmakers Discuss Harms Bailouts Would Have for Hoosiers
INDIANAPOLIS, IN – Americans for Prosperity-Indiana (AFP-IN) this month held tele-town halls with three members of Indiana's congressional delegation: U.S. Senator Todd Young and U.S. Representatives Jim Banks and Trey Hollingsworth.
AFP-IN and the legislators discussed the $3 trillion spending package that recently passed the House of Representatives and why lawmakers should reject this attempt to pass this bill that contains $1 trillion in bailouts for cities and states for years of fiscal irresponsibility.
AFP-IN State Director Michael Chartier issued the following statement:
"It was great to talk with these three legislators about the $3 trillion spending package that contain items that have nothing to do with pandemic relief. This bill and bailing out fiscally mismanaged municipalities and states will take us father away from economic recovery and push our country even closer to a fiscal crisis. We're pleased to see Sen. Young and Reps. Hollingsworth and Banks step up and protect taxpayers from paying for years of mistakes by politicians in other states."
You can view the event with Rep. Trey Hollingsworth here.
Rep. Hollingsworth said this about the impact the spending package would have on the federal debt and deficit:
"It is an inconceivable amount of money…we cannot hand down a burden of debt to our children. We should hand down an abundance of opportunities. And the reality of debt is it has to be paid back.
"Because Washington isn't held accountable in the way that it should be for having a vigorous and very discerning debate about how it spends your money, Washington continues to kick that can down the road."
You can view the event with Rep. Jim Banks here.
Rep. Banks said this about the spending package:
"Tomorrow I'm going to go on the floor of the House and vote against a $3 trillion plus bill that Speaker Pelosi has put on the floor, and most of that money will go to bail out blue states like Illinois and reward decades of bad behavior.
"Their wasteful spending [in Illinois], at their state level, isn't something that should be bailed out by taxpayers from Indiana."
You can view the event with Sen. Todd Young here.  
Sen. Young asserted Hoosiers shouldn't have to pay for other states' fiscal profligacy:
States like Indiana should not be punished in the course of this because of our fiscal responsibility and others' fiscal irresponsibility.
Background: 
Recently, Americans for Prosperity released, Recover Stronger: A Starting Point to Build An Economy that Works for All, a set of principles and recommendations that offer lawmakers a starting point to build a stronger economy as the country recovers from COVID-19. As Congress considers additional massive spending bills, the guidance is intended to present better alternatives to help the economy recover – and ultimately create a new, stronger economy.