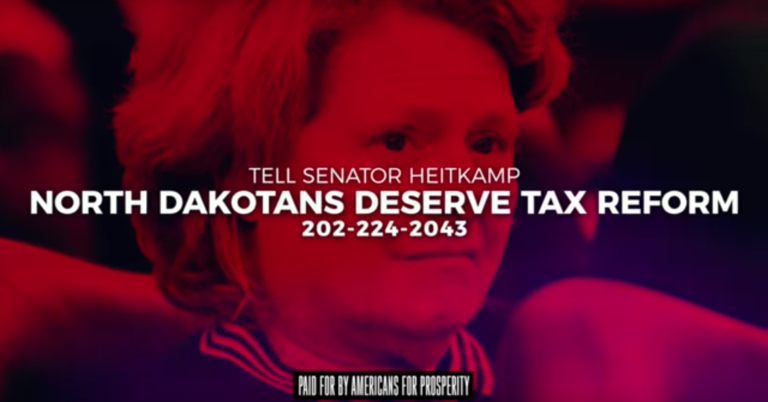 Heitkamp's 30 Days of Silence, Claims She Is "Not Impressed" by Financial Gains Coming to Americans
AFP-ND calls on Senator Heitkamp to correct the record
Bismarck, ND – Americans for Prosperity-North Dakota (AFP-ND) is again calling on Senator Heidi Heitkamp to correct the record. On December 2nd, Senator Heitkamp released false claims that all North Dakotans' taxes would increase by $10,000 each if the Senate tax reform plan was enacted. She has also made claims that the Republican tax cut package would not create additional prosperity for the state and rest of the country. However, dozens of major companies have announced bonuses and robust investment projections to come in the near future because of the tax cut bill.
AFP-ND was the first to call on Heitkamp to correct the record on December 11th. AFP-ND also launched a digital ad to educate North Dakotans about Heitkamp's inaccurate claim and urged her to support tax reform. After being called out, Heitkamp deleted her erroneous tweets and rewrote the statements posted on her website – but she has never issued a formal correction or apologized for spreading disinformation.
CBS This Morning recently looked into how the tax reform bill will affect three types of taxpayers in different areas of the country. In all three cases, taxes would be lower. Families would either receive a higher refund or owe a significantly lower amount. And since the Tax Cuts and Jobs Act passed, over a million Americans are receiving additional bonuses, and many companies have also announced wage increases.
In the wake of several companies (such as North Dakota's own Gate City Bank, see below) announcing bonuses due to the new tax law, Senator Heitkamp told listeners of The Mike McFeely Show that those bonuses "don't impress me."
AFP-ND state director Mike Fedorchak released the following statement:
"Tax reform is going to help North Dakotans keep more of their money and while that may not impress Senator Heitkamp, we believe North Dakotans will be far more grateful.  Senator Heitkamp has been wrong about this bill from the beginning and needs to come clean and apologize to her constituents for misleading them into believing that the tax cut bill would hurt them. She should have supported tax cuts so they could be made permanent instead of lining up behind Chuck Schumer and Nancy Pelosi."
In North Dakota:
Gate City Bank announced it hand-delivered $1,000 bonus checks to 538 non-management employees, contributed $500,000 in additional charitable giving, and has or is providing $500,000 worth of free home appraisals. In a statement the bank said, "This new tax reduction enables us to make decisions that benefit our customers, communities and team members
in a significant way which has been our culture for decades. Gate City Bank is making a commitment to reinvest an additional $1.6 million in 2018. As a thank you for our employees' hard work and dedication, we will be providing our 538 employees with $1,000 each, giving back over $625,000. Every employee will be hand-delivered a check for a net amount of $1,000 on January 15th. Executive Leadership, Regional Leaders, Office Managers and Department Managers are not eligible. This is above and beyond general compensation."