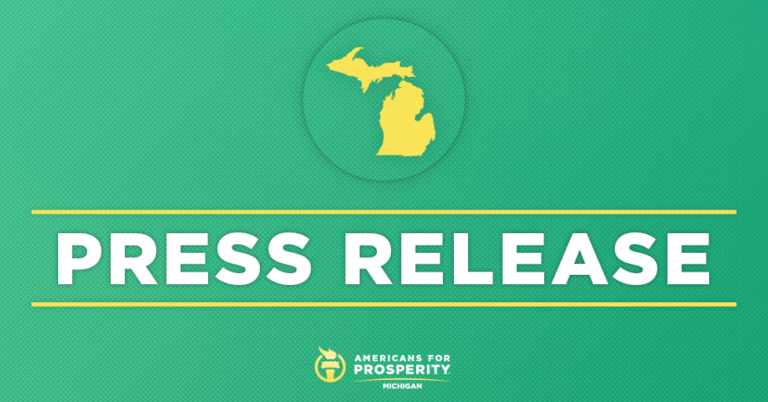 GM Press Conference Highlights How Taxpayers are Subsidizing Political Points for Governor
Americans for Prosperity says state is spending $1 billion on political points, not economic development
LANSING, Mich. — Taxpayers are subsidizing political points in an election year for Governor Gretchen Whitmer, the grassroots group Americans for Prosperity said today. The group's statement came on the heels of a presser in which the Governor joined executives from GM to announce billions in taxpayer-funded handouts.
Funding for the scheme was passed last month during a late-night pre-holiday session of the legislature, and caused a controversy when news broke that multiple members of the legislature and other government officials had signed non-disclosure agreements with interested corporations even prior to passing the $1 billion funding package.
Annie Patnaude, state director for Americans for Prosperity-Michigan, issued the following statement:
"Governor Whitmer appears to be more concerned about scoring short-term political points with taxpayer-funded corporate handouts than driving long-term authentic economic growth for the state of Michigan. Meanwhile, thousands of businesses across Michigan are left out in the cold as they struggle to make payroll or serve their customers in the face of crippling staff shortages, inflation, and supply chain disruptions. It's a page right out of former Governor Jennifer Granholm's playbook.
"Michigan taxpayers are still on the hook for sweetheart tax credit deals Governor Granholm struck more than a decade ago. To add insult to injury, they continue to pay for the 'temporary' increase in the personal income tax Granholm signed into law 15 years ago.
"We encourage all of our leaders to set aside short-term political thinking and embrace policies that will drive long-term economic gains. We can make Michigan more competitive for jobs through red tape reduction, tax relief, and a government focused on empowering families to choose the best learning environment and option for their children."