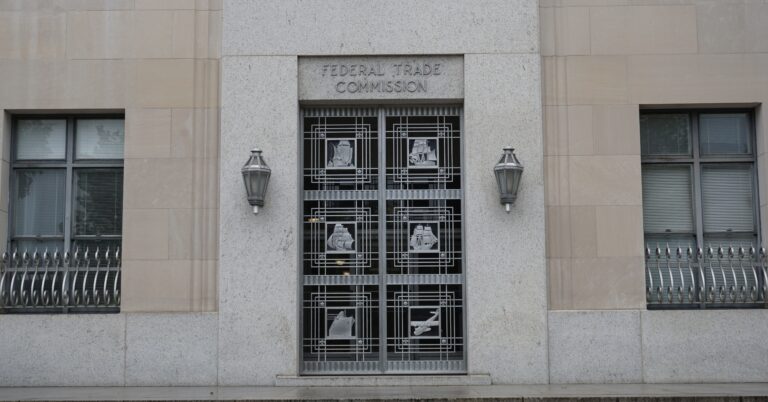 FTC Commission Chair Lina Kahn's overreach is bad for consumers, bad for the economy
This article was coauthored by Neil Chilson
Federal Trade Commission Chair Lina Khan is attempting to radically recast antitrust enforcement into a political tool by usurping the role of Congress and claiming authority the FTC does not possess.
This regressive agenda will increase consumers' costs and punish entrepreneurs while subjecting American businesses and their customers to damaging enforcement of dubious legality.
Since her Senate confirmation in June, Khan has:
Rescinded an FTC policy statement supporting the "consumer welfare standard" as a guide for antitrust enforcement.
Revised and proposed repealing well-established merger guidelines.
Authorized FTC staff to initiate antitrust investigations without gaining a majority vote of commissioners.
Granted herself the authority to compel companies to produce documents without consulting colleagues.
Now the White House is looking to the FTC to assist in the fight against inflation, siccing the regulatory agency on producers it blames — with no justification — for driving up prices. That's not the FTC's job.
The FTC wants to discard the consumer welfare standard, opening the door to abusive antitrust enforcement
For more than four decades, courts have properly focused antitrust enforcement on determining whether business practices harm consumers, rather than whether practices harm competitors. After all, robust competition is always uncomfortable — at minimum — for competitors.
Critics of the consumer welfare standard often argue that its application does not sufficiently reduce concentrations of political and economic power that they allege can arise from monopolistic practices. But that turns the reality of government intervention on its head.
When government intervenes on behalf of a company's competition, it's choosing sides: The government puts the force of law against one company and in favor of others.
If consumers choose the products of Company A, but the government instead steps in and requires consumers to buy the products of competing Company B or C, where is the concentration of political power? It rests firmly in the hands of companies that use government to upend consumer choices.
At that point, antitrust enforcement becomes a quest not to determine what is best for consumers, but to deliver what is best for the companies that are friendliest to administration policy and politics — the very definition of cronyism.
As the late Supreme Court Justice Potter Stewart wrote, in the absence of a guiding principle such as the consumer welfare standard, the only consistency in antitrust cases is that "the government always wins."
The corollary is that the consumer often loses, and that's true whether the case originates with the FTC, the Justice Department, or any other antitrust enforcer or plaintiff.
And make no mistake: History shows that discarding the decades-old and highly effective consumer welfare standard would open the door to arbitrary and abusive antitrust enforcement across government.
For example, Presidents Lyndon Johnson and Richard Nixon both used threats of antitrust enforcement — threats made credible by the lack of constraints on government intervention — to manipulate media coverage of their administrations.
Recasting antitrust as a purely political tool would embolden every agency and department head to follow Khan's lead, jettisoning principles of limited government and weaponizing the regulatory process.
Why AFP Foundation is suing the FTC
The FTC is an independent agency with specific powers granted by Congress. It is not an omnipotent regulator with absolute authority over the U.S. economy. It cannot unilaterally remove the statutory, procedural, and structural constraints that determine how and for whom the FTC can write new rules, initiate investigations, and bring enforcement actions.
That is why Americans for Prosperity Foundation is suing the FTC to recover records AFPF sought through a FOIA request in October that will shed light on what, exactly, is going on at the commission.
These internal FTC records could reveal arbitrary decision-making, a lack of standards of enforcement, collusion with preferred businesses to target disfavored ones, and a desire to use the power of the agency to advance the anti-business priorities of activists — all at Khan's whim.
Supreme Court Justice Louis Brandeis wrote, "sunlight is said to be the best of disinfectants; electric light the most efficient policeman." Bringing these records to light will help educate lawmakers, regulated entities, and citizens on the real aim of Khan's FTC — an aim that increasingly appears to favor political interests rather than protect consumers and the competitive process.
Her agenda, supposedly justified by a need to "rein in Big Tech," is out of step with mainstream antitrust thinking, but her ideas are not new. They've been part of the progressive wish list for a century, during which they have been rejected repeatedly by courts, elected officials, and the buying public as anti-consumer, anti-innovation, and harmful to economic growth and prosperity.
Eric Bolinder is managing policy counsel at Americans for Prosperity Foundation. Neil Chilson is senior research fellow for technology and innovation at Stand Together. He formerly served as chief technologist for the FTC.