Please select your state
so that we can show you the most relevant content.

Georgia's outdated certificate-of-need (CON) programs have banned health care providers from expanding critical care to our most vulnerable patients across the state. Health care prices are increasing while access to care is decreasing, demonstrating why we must repeal CON laws and improve Georgia's health care system.
In August 2022, the executive director of the Augusta Birth Center sued the state in order to challenge the CON laws that prohibited the birth center from opening. Without the birth center, mothers and families have to travel hours to another city if they do not want to give birth in a hospital. This is a prime example of how these outdated CON laws are harming patients and their access to care.
Below is a list of providers who have been denied expanding care in the last few years: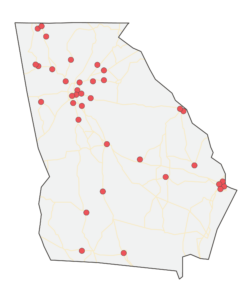 2021

Northside Hospital Cherokee – Megavoltage radiation therapy

2020

Cartersville Medical Center, LLC – New service to include four neonatal intermediate care beds
United Imaging Center of Marietta, LLC – Proposed freestanding advanced diagnostic imaging center in Cobb County
South Georgia Medical Center – Expand capacity by 45 beds

2019

Braselton Surgical Specialist Center, LLC – Establish a freestanding multispecialty ASC with three operating rooms and one procedure room – batching
Savannah Health Services, LLC d/b/a Memorial Health University Medical Center – Add eight neonatal intermediate care beds
Savannah Health Services, LLC d/b/a Memorial Health University Medical Center – Add nine neonatal intensive care beds
© 2023 AMERICANS FOR PROSPERITY. ALL RIGHTS RESERVED. | PRIVACY POLICY