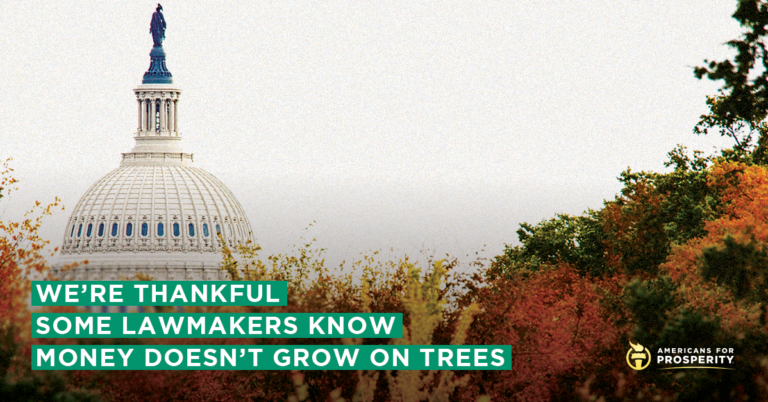 Are Your Lawmakers Gobbling Up Taxpayer Dollars?
You know what we would be thankful for this holiday season? Responsible budgeting and spending.
CLICK HERE TO THANK LAWMAKERS WHO KNOW MONEY DOESN'T GROW ON TREES
That shouldn't be too much to ask.
Unfortunately, many lawmakers continue pushing us down the path of reckless spending. In fact, in fiscal 2018, the federal government spent $4.1 trillion dollars, far beyond what it collected in revenue.
They gobble up your tax dollars rather than take a hard look at the budget and make tough but smart decisions about funding.
We have a spending problem in this country, that's certain. Congress passes larger and larger spending bills, all while the national debt continues to rise.
Luckily, there are a few in Washington who are not afraid to say no to out-of-control spending. These lawmakers know that money doesn't grow on trees, but comes from hardworking Americans, and they should spend that money responsibly. See if you can find your lawmakers!
Senators Rand Paul, John Barrasso, David Perdue, Ben Sasse, Mike Lee, James Lankford, Cory Gardner, Mike Enzi, Steve Daines, Ted Cruz, and Mike Crapo.
Representatives Justin Amash, Andy Biggs, Marsha Blackburn, Rod Blum, Dave Brat, Ted Budd, Warren Davidson, Tom Emmer, Matt Gaetz, Andy Harris, Jim Jordan, Mark Meadows, Scott Perry, Thomas Massie, John Ratcliffe, Lloyd Smucker, and Mark Walker.
This Thanksgiving, thank the lawmakers who voted against overspending this year, and urge them to keep fighting for fiscal responsibility!